Executive Summary
During the Blueprint 2020 discussions, public servants reported that many rules and processes were overly complex, top-down and lacked coherence. Subsequently, simplifying internal processes and reducing internal red tape was identified as one of the five priority areas of action in Destination 2020. To this end, a small multi-disciplinary Tiger Team was established at the Treasury Board Secretariat (TBS) to engage public servants from the "bottom up" using social media and roundtables to identify the common irritants and to design solutions to address them. The diagram, "The Internal Red Tape Story," provides a snapshot of what the team accomplished over the two-year span of the initiative by adopting a user-centric design-thinking approach. This report presents key findings and recommendations that reflect the voices of public servants.
Key findings
Judging from the scope and intensity of the input received, internal red tape is a significant issue for public servants in all departments and in all regions. Public servants broadly recognize that in a large, complex organization such as the federal government, rules help ensure good stewardship, governance and accountability. However, while they recognize the need for rules, public servants noted that the current rules, policies and guidelines are difficult to find and, once found, difficult to understand. This judgement applies to both Treasury Board policies and the vast number of rules created by departments to supplement them.
When asked to describe their experiences with internal red tape, they identified a broad range of things that hinder their ability to perform their jobs. Internal red tape is much more than just the rules; it encompasses the behaviour around the rules. It manifests itself in difficulty getting clear instructions, with siloed information, experiencing poor client service and, ultimately, process overload. It is worth noting that recent technological solutions that had been introduced – such as MyKey, performance management, and the travel portal – were cited as sources of frustration.
Deeper dives into the underlying causes of internal red tape found broad repeating themes. Departmental processes and procedures are often more elaborate than required by Treasury Board policy. Transactions generally follow similar cumbersome processes, irrespective of the level of risk, and existing flexibilities are rarely used. And fear of audit is often cited as a driver for procedures and demands for documentation. This has created an environment where client service takes a back seat to process. And finally, both functional specialists and clients stated that they feel powerless to change the system.
Key recommendations
Improve the rules – Use the current Treasury Board Policy Suite "reset" exercise to streamline rules and clarify accountabilities. Departments should then review their internal departmental policies to ensure they are not duplicative or creating unnecessary burden.

Focus on the user – Make it easier for public servants to follow the rules by providing information, guidance, training and tools that meet the needs of users, including both functional specialists and their clients. Ensure that any technological solution is designed with the user in mind, is user tested and has a feedback loop for improvement.

Improve service performance – Develop robust performance measures that prioritize client service standards to counterbalance the focus on rule-following and compliance. A service strategy for internal services is critical if internal red tape is to be reduced.

Change the culture – Resist behaviours and incentives that drive red tape, such as the tendency to react to events by layering controls and processes. Allow for flexibilities and adaptable practices that respond to the level of risk for a transaction. Reward desired behaviours.
Structure of this report
This report is structured as follows. Chapter 1 sets the context for the initiative. Chapter 2 describes the characteristics of internal red tape and proposed solutions to address them. Chapter 3 centres on the root causes of red tape in three areas. Chapter 4 offers some lessons learned from the initiative. The engagement process, tools used in the initiative, snapshots of internal red tape stories and a service strategy for internal services are in the Annex.
The Internal Red Tape Story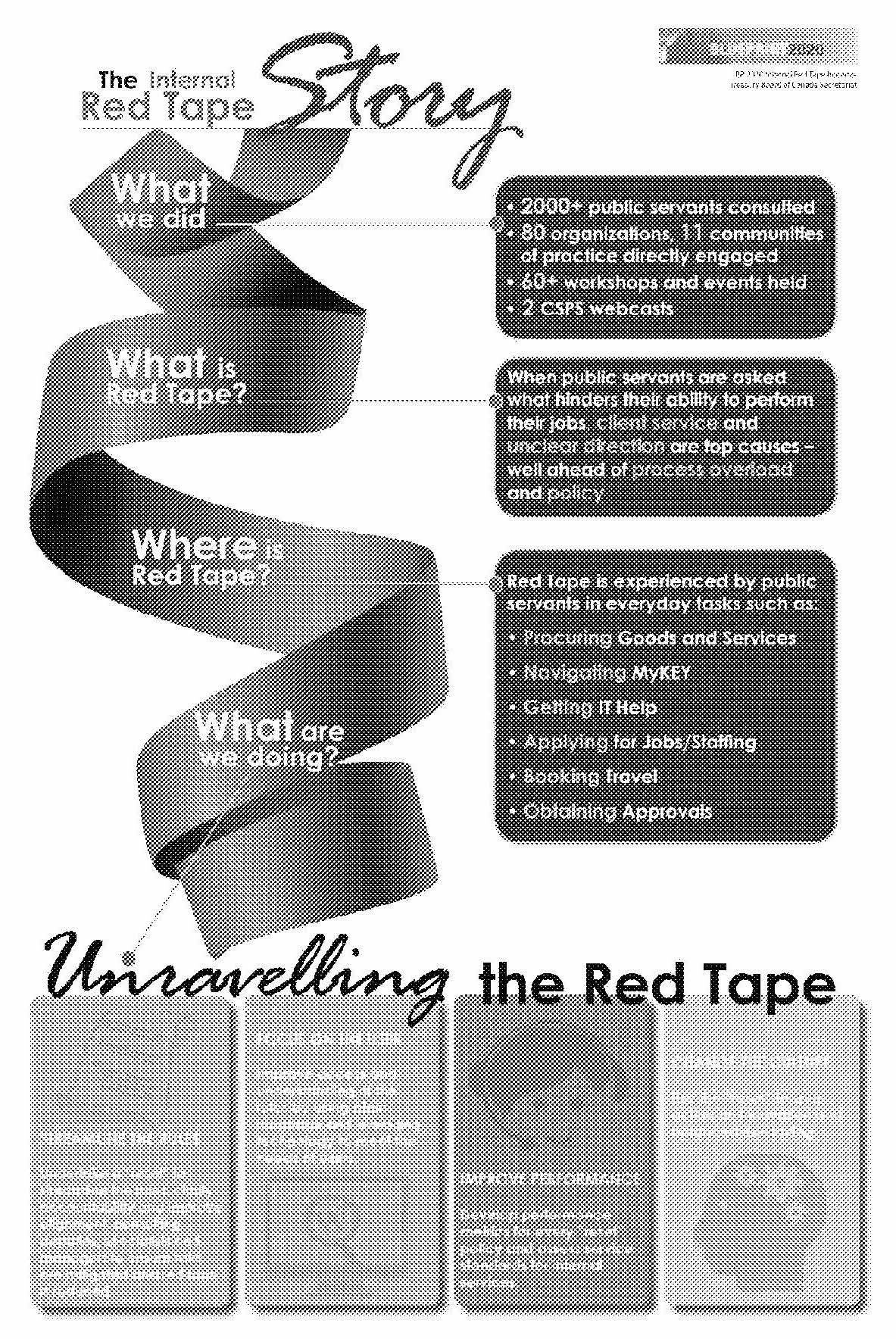 Chapter 1: A call to action
In June 2013, Blueprint 2020 (BP2020) was launched, setting in motion an unprecedented engagement exercise with public servants about the future of the public service of Canada, with "the goal of ensuring that it remains a world class institution." During the dialogue that took place in the weeks following the launch of BP2020, public servants reported that…
"Many rules and processes are overly complex, top-down, siloed, and lack coherence and consistency. This often results in a frustrating experience for those trying to do their jobs."
In May 2014, the Clerk of the Privy Council stated in the Destination 2020 report that simplifying internal processes and reducing internal red tape would be one of five priority areas of action taken to transform the federal public service for now and the future.
To this end, the Treasury Board Secretariat (TBS) was tasked with establishing a small multi-disciplinary Tiger Team to engage public servants using social media and roundtables to identify "some of the biggest specific irritants." Moreover, on red tape problems that are complex, the Tiger Team was called to work with departments and agencies to look at all aspects of rule-making in order to find solutions.
A small multi-disciplinary Tiger Team was established at TBS in the summer of 2014. A two-year work plan was developed subsequently. Engaging and collaborating with public servants was at the core of the initiative. The reason was twofold. First, while internal red tape was raised during the Blueprint 2020 engagement exercise, the comments were too general to really identify the specific problems. Second, to achieve the Destination 2020 objective of improving "the experience of those who must follow the rules and administrative processes,"' it was essential to involve them in the problem-solving process. Instead of consulting public servants with a pre-prepared diagnostic, the team adapted a user-centred design-thinking process by first identifying the problems with public servants.
Project timeline
Launched in November 2014, the internal red tape reduction (IRTR) initiative consisted of two phases:
engaging public servants to identify the biggest irritants; and
exposing root causes in a few areas with relevant departments and agencies.
The broad engagement exercise reached more than 2,000 public servants across the country through discussions and workshops, both online and in person. These interactions helped identify the nature of red tape and where it occurred most often. The results were shared during the first national webcast on internal red tape reduction, hosted by the Secretary of the Treasury Board with deputies from partnering departments in April 2015.
During the webcast, public servants were asked to identify the top three areas where reducing red tape could improve their experiences in a tangible way. Staffing, procurement, and grants and contributions were the most mentioned areas. Subsequently, the Tiger Team convened an interdepartmental forum with a focus on these three areas. Seventy-two individuals from 26 departments and agencies attended this one-day event, where they got to share their current work in any of these three areas and collaborated on solutions by applying design-thinking tools. Following the forum, three interdepartmental working groups were formed. Over eight weeks, each team delved further into one of the three areas with a view to exposing the root causes and ideating solutions. The diagram, "Engagement of Public Service at a Glance," illustrates what was accomplished through the project. A step-by-step description of the initiative can be found at the end of this report.
A word about design-thinking
As shown in Figure 1, design-thinking puts users at the centre of a problem-solving process. To analyze a problem, this approach centres on understanding it from the perspective of users by listening to their points of view and developing the analysis with them. Once a problem is identified, it focuses on designing solutions with those who will be affected by the solutions instead of providing a solution for them. (See Figure 1.) The methodology for this initiative will be described in the Annex.
Figure 1: The D-School Design Thinking Process

Figure 2: Engagement of Public Servants at a Glance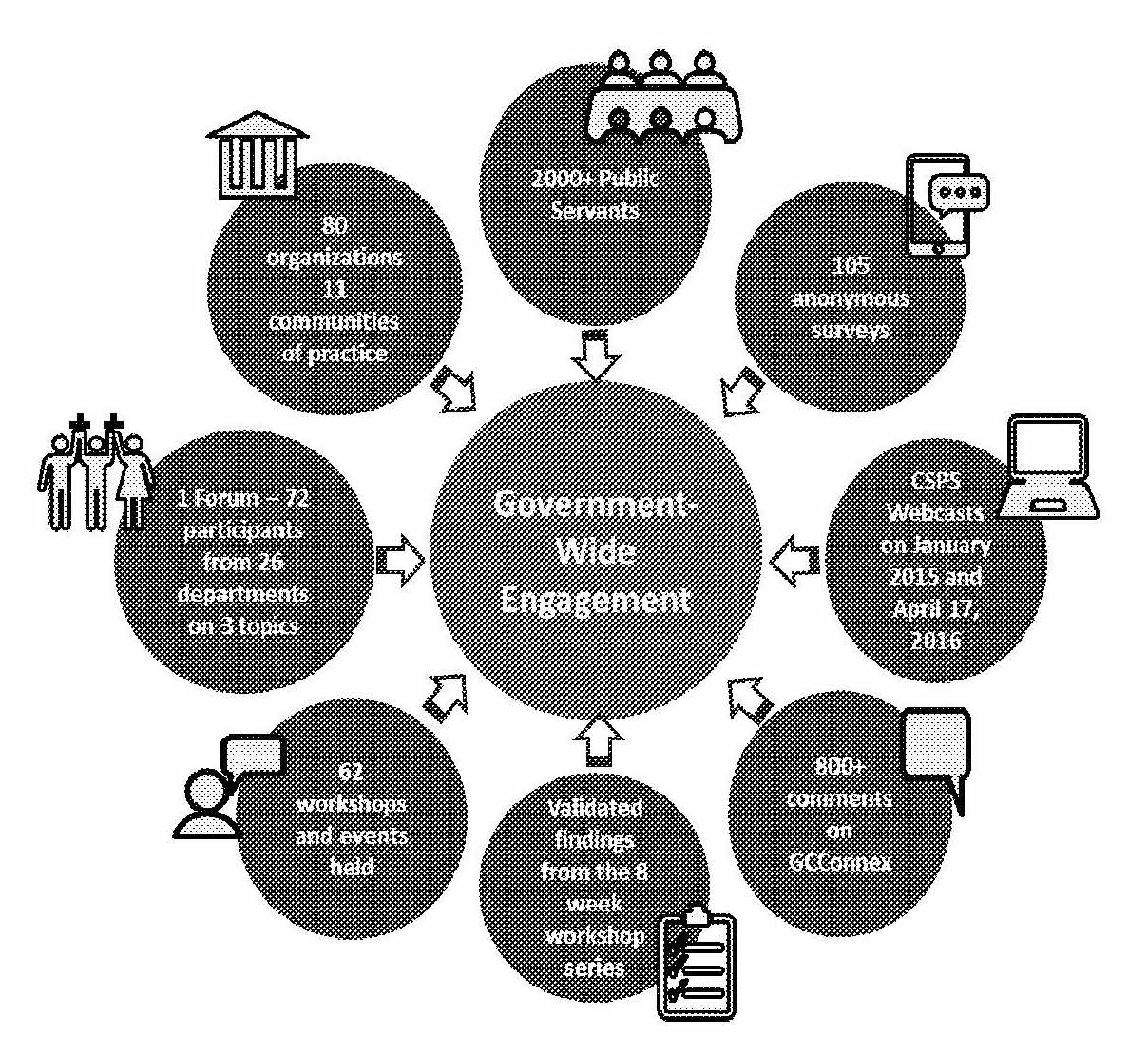 Chapter 2: Unravelling internal red tape, one story at a time
In brief
Engaging public servants at the working level
A key element of the Engagement Phase was to listen to public servants at the working level about their encounters with internal red tape in order to identify common irritants. A variety of engagement channels were used to reach as many public servants as possible, in departments and agencies, communities of practice and networks. The Tiger Team sparked discussions online through blogs and discussion groups on the Government's social media platform, GCconnex, under the group Blueprint 2020 – Reducing Internal Red Tape. The team held virtual and in-person workshops, and also provided public servants with the opportunity to participate anonymously via survey. Through these efforts, the Tiger Team reached more than 2,000 public servants, collected over 400 stories and boasted the most active participation rate on GCconnex, averaging eight interactions per day (e.g., comments, likes, blog posts).
In addition to describing the problems they encountered, public servants were asked how they would solve them in order to improve their experiences. Public servants were also asked whether some of the barriers (or "red tape") they experienced were being addressed in their respective organizations or within the public service. It became evident that many organizations were already undertaking initiatives to streamline processes internally. As a result, the Tiger Team broadened its scope to include surveying those activities taking place across government. Over 170 initiatives across 45 departments were collected.
Internal red tape occurs in the tangential elements of day-to-day working life
Public servants encountered barriers in the tangential elements of their day, such as getting IT help, filling out a travel request, evaluating performance, and accessing electronic systems after new software was introduced. Changing departments was another major area where red tape was found, as this requires public servants to complete security clearance forms and reactivate their myKEY, which gives them secure access to government applications, including the Compensation Web Applications.
These are a few examples that have been brought forward, among many others. A snapshot of these internal red tape stories is available in the Annex of this report.
Unclear direction / burdensome policy and poor client service are top causes
Complicated processes, paperwork and policies often come to mind when talking about red tape. However, the findings from Phase I tell a slightly different story (see chart of DNA of internal red tape). When public servants were asked what hinders their ability to perform their jobs, unclear direction/burdensome policy and poor client service were top causes, even ahead of process overload. In contrast to what was assumed to be the case, policy plays a lesser role in the red tape story from the public servant's point of view. The analysis further showed that the usability of technology linked to enterprise-wide initiatives, such as the performance management portal, myKEY, and the travel portal, was viewed as a hindrance. Further, this task contributed to more types of red tape.
Chart 1: DNA of Internal Red Tape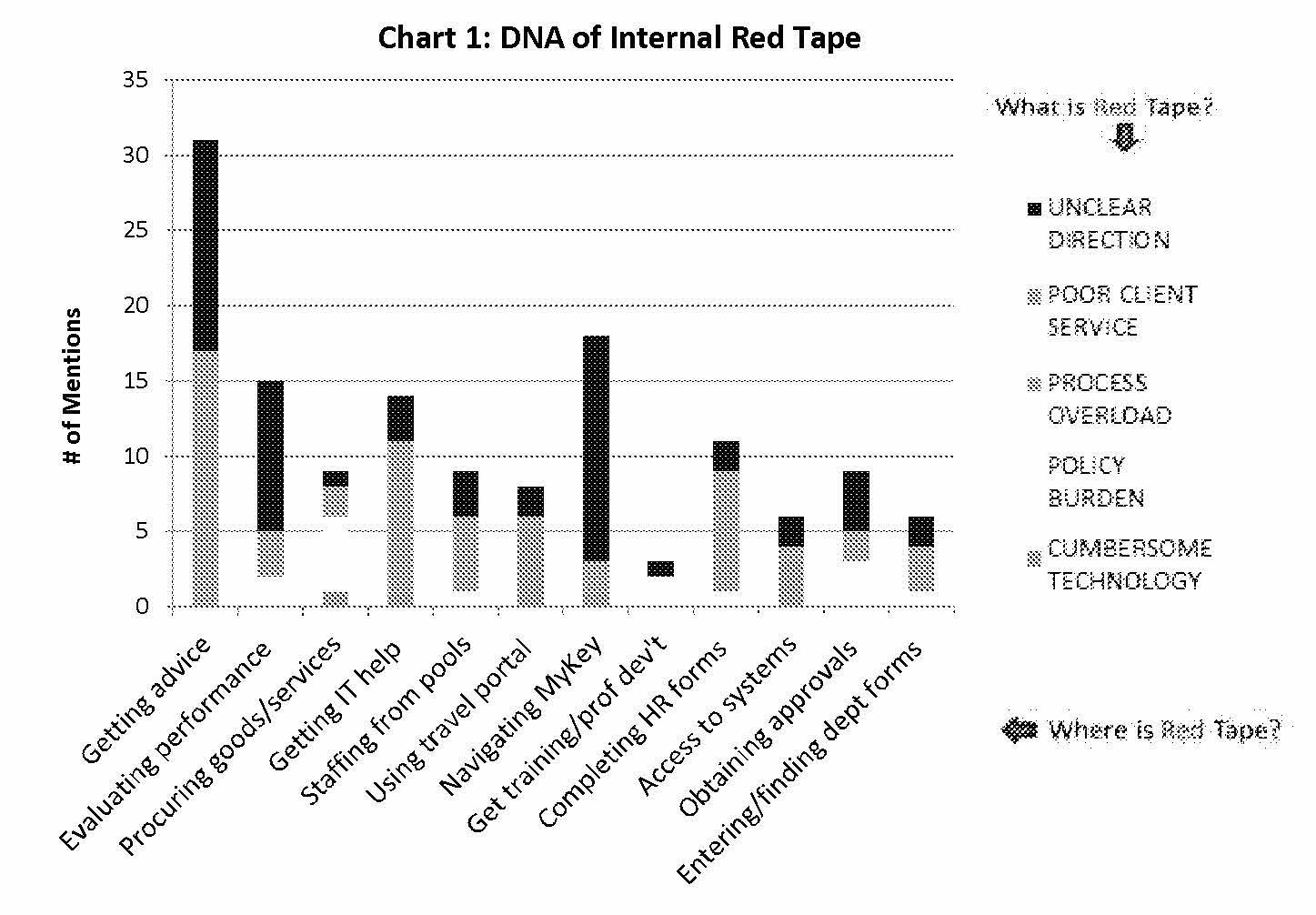 Departmental efforts to reduce internal red tape are not addressing the key issues raised by public servants
In response to the Blueprint 2020 feedback, many departments had initiated internal red tape reduction exercises of their own. As the Tiger Team began cataloguing those activities, it became evident that many of the issues being worked in departments aligned with problem areas identified by public servants: procurement, staffing, internal processes and approvals. However, the solutions being proposed focused on streamlining processes (through LEAN and other methods), introducing technological solutions and producing toolkits. These initiatives were not addressing the primary pain points identified by public servants: unclear direction and poor service. Moreover, departments were working on similar problems in isolation, with limited sharing of experience and best practices.
Chart 2: Departmental Initiatives on Reducing Internal Red Tape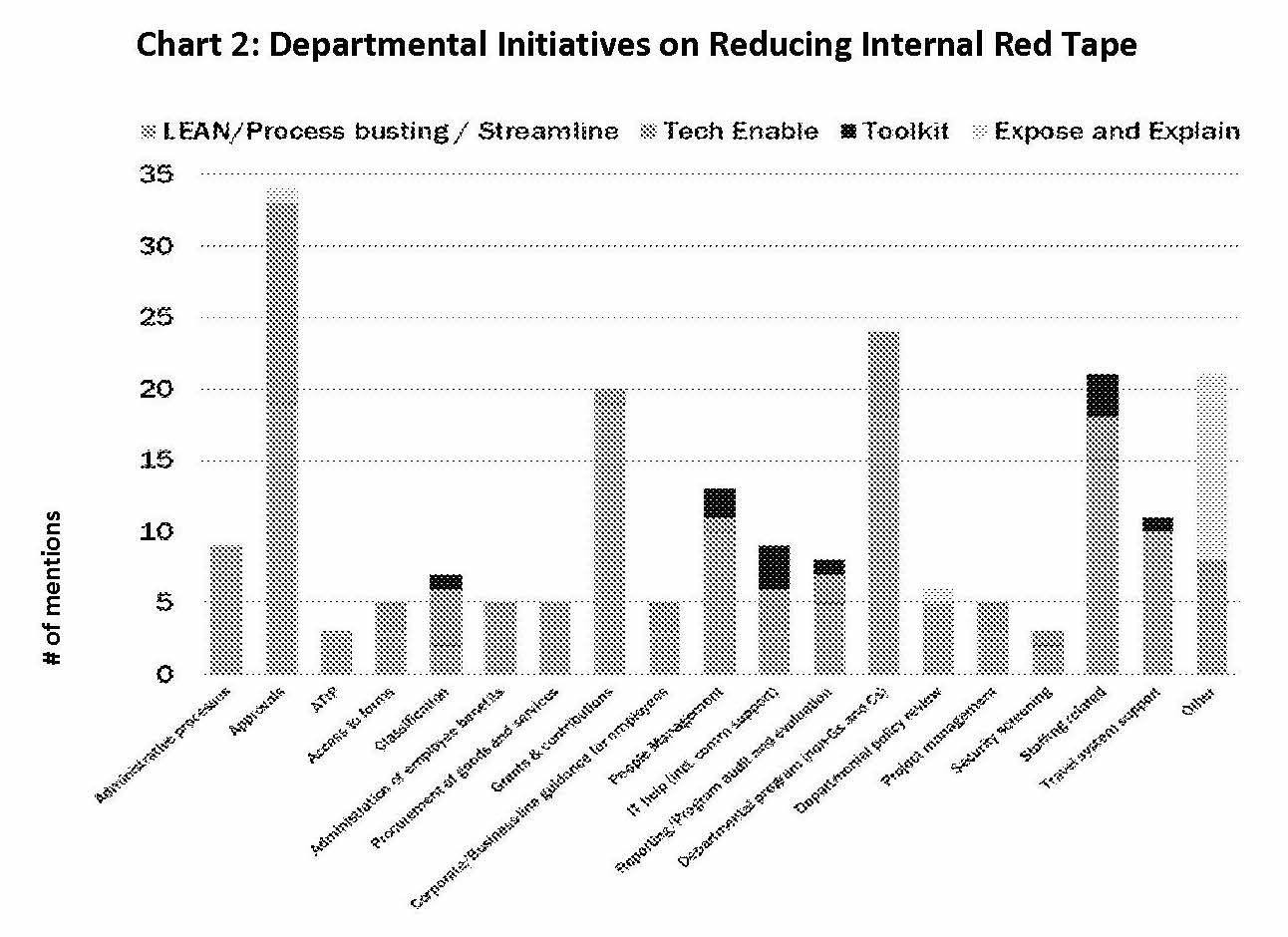 Addressing the root causes of the irritants requires a multi-pronged approach
" …senior leadership is going to do everything it can to make sure that the rules, the structures, the policies are enabling and empowering, that we get rid of bureaucracy and process for processes' sake, rules for rules' sake." – Michael Wernick, Clerk of the Privy Council, at APEX Symposium 2016.
Addressing red tape in the federal public service will require a multi-faceted approach. As the stories suggest, the issues are shared, and there is no one simple solution to lighten the red tape load. Just as the issues are shared, the solutions depend on central agencies, departments and functional communities working collaboratively together to reduce the instances of internal red tape that hinder public servants in performing their jobs on behalf of Canadians every day.
Many layers that contribute to red tape have been identified. By focusing on each component that makes up red tape, we will be able to formulate a solid approach to making improvements.
Unclear direction / burdensome policy
What we heard
Public servants indicated that rules, policies and guidelines are unclear and difficult to find. As a result, departments apply their own interpretations, oftentimes not leveraging existing flexibilities and adding burden.
As shown in the DNA of internal red tape graph, "unclear direction" and "burdensome policies" are two of the most common barriers identified by public servants. If "unclear direction" is the foundation of the irritants, this is a clear indicator that we need to improve the ability of public servants to find rules, procedures and guidance. These must also be written in plain language, easy to interpret and, where applicable, accompanied by user guides and/or how-to videos.
Policy is a broad topic that affects public servants in different ways. Through the broad-based consultations that the Internal Red Tape Tiger Team (Tiger Team) conducted, stories were gathered regarding strict policy and the impact it has on public servants in their day-to-day operations. It affects everyone in different capacities: at a departmental level, through various occupational groups, and from a regional and National Capital scope. Policy in the federal government is designed to create rules that are easy to follow and minimize risk. Departmentally, however, certain policies are interpreted differently, causing the rules to be more rigid than they are intended to be.
Proposed way forward
Proposals to address the issue of lack of clarity include focusing on improving access to information through an enhanced, user-focused web presence. This would entail sophisticated search capabilities to close the knowledge gap between functional specialists and other public servants, and the ability to link information together. Additionally, the web presence should link to Canada School of Public Service (CSPS) training, such that employees are in direct contact with the School. This will ensure awareness of training and learning opportunities across the public sector. The new "Policy Suite Reset" website, released on June 6, 2016, is a step in the right direction. With time, its increasing functionality will improve the ability of the user to find and understand Treasury Board rules. However, there is a need to build more capacity at the working level to solve problems and identify innovative approaches. The Web 2.0 tools offer a venue, but their use is still very preliminary, and even if they become good tools for functional communities, there is also a need to include public servants.
Through the user-centric Policy Suite Reset, work is under way to review the Treasury Board Policy Suite in order to eliminate unnecessary requirements and reduce burden. Work is also under way to ensure that policies are written in plain language and understood by users. Treasury Board of Canada Secretariat (TBS) is committed to having a clear and more understandable suite of policies.
As TBS works on the policy suite, it will be important for departments to review their own internal departmental policies through a user-centred approach, to ensure they are leveraging available flexibilities and do not end up creating additional departmental policies.
Poor client service
What we heard
"Poor internal client service" was a frequently-mentioned irritant identified by public servants during Phase I and the broad-based consultations. More specifically, the stories that the Tiger Team captured reveal that there is a lack of acknowledgement regarding how critical a culture focused on internal client service is to a successful organization.
Public servants told us that they experienced the following when accessing internal services:
Client must initiate contact;
Lack of support and guidance;
Conflicting or unreliable advice;
Local expertise ignored; and
Multiple contacts and a "not my job" mentality.
As the federal government has centralized most of its services, many individuals shared their concerns about not being able to speak directly to a person, but rather having to send enquiries to a central mailbox via email, where responses are bounced around without the provision of consistent or appropriate information. Further, this also resulted in siloed information when specialized call centres were only able to answer a portion of the issue. These findings underscore the importance of focusing service excellence on internal services.
Proposed way forward
Concerted attention on developing and supporting a culture of service for internal services is considered to be critical to any effort to reduce internal red tape. It is recommended that a service strategy be developed for internal services, thus signaling the Government's commitment, through Blueprint 2020, to improving the working life of public servants. This would entail:
Redesigning service offerings to meet client needs;
Engaging clients in service design and improvements;
Setting service standards and client satisfaction targets;
Investing in people;
Measuring, monitoring and benchmarking service performance;
Establishing a service excellence community of practice for internal services; and
Communicating and marketing the Government's commitment to service excellence in internal services.
Of note, the Management Accountability Framework (MAF) has included a few questions about service standards in its methodology. Early results indicate that many departments with service standards do not track performance against them and that there is no common way to measure performance for similar activities across departments. As a result, there is a wide range of results for similar tasks. For example, the days required to staff an AS-01 position range from 2.3 days to 195 days, and the mean time required to repair workplace technology device (WTD) related incidents ranges from 1 to 284 hours in the 37 large departments and agencies assessed in 2015-2016. The MAF will continue to promote internal service standard indicators within its methodology. While more work is required to arrive at fully comparative results, they serve as a starting point and could support a government-wide strategy for improving service delivery for internal services.
Process overload
What we heard
Accomplishing a single task involves undertaking too many steps and unnecessary processes. Through the analysis conducted in Phase I of the project, process overload was among the top three irritants which public servants indicated as having a serious impact on getting their jobs done. Stories and interviews that were collected detailed how accomplishing a single task involved undertaking many steps and unnecessary processes. Also, many individuals working in the regions have expressed their frustrations and concerns with their daily tasks, which are riddled with added process and longer wait times because they are far removed from National Headquarters.
Proposed way forward
Looking at the work currently under way in departments, it is clear that a lot of effort has gone into streamlining processes. As this continues, it may be helpful for departments to adopt a "show me the rule" approach, by empowering employees to seek justification as to why things cannot be done differently. The work environment should be such that employees have the ability to have an open dialogue with their managers so that decision-making is inclusive and gives employees the capacity to challenge processes that are cumbersome or that do not make sense.
It is also important, when scrutinizing processes, to ask service providers and clients what is working and what is not working by establishing feedback mechanisms to obtain the information and to determine sun-setting clauses to rules and proceed with change management exercises in order to change established practices. The users of the processes, both frequent and infrequent, are essential to having a successful streamlining exercise.
While streamlining processes is a necessary step, such efforts will only be temporary if the underlying culture and desire to add steps are not addressed. In addition, when the right conditions exist, departments may need to favour a risk-based approach to oversight and review. This can be done by establishing ongoing monitoring based on sampling rather than reviewing 100% of the transactions. This will provide sufficient documentation for audits and internal controls, as well as alleviate the time and pressure to overlook all processed documents.
Cumbersome technology
What we heard
The technology solutions introduced are not sufficiently user tested or intuitive. Technology, with all of its power and potential, was flagged as one of the barriers hindering public servants attempting to get their jobs done. A common argument and pain point expressed was that technology often gets rolled out to create efficiencies in business processes but, more often than not, it lacks the capacity to meet the users' needs. As time is always of the essence, technological solutions get rolled out without adequate user testing or training and are not always intuitive. Countless frustrations surfaced when consulting with users, indicating that individuals are forced to conform to centralized technological solutions, such as GCDocs, the travel system and myKEY, which are implemented without the business process being designed with the users' needs in mind.
Proposed way forward
Moving forward, it will be essential to dedicate ample time to the involvement of users in the early stages of designing technological solutions before they are implemented across government, to ensure that users' needs are met. This would involve incorporating usability testing and user engagement at the outset of business planning so that those who will be using the technology can make known their needs to ensure efficiency and money well spent. In addition, it is imperative to dedicate sufficient attention to user testing and implementation of new technology. More often than not, more time is spent on establishing the concept rather than on the implementation.
As many of these technological solutions are already in place (e.g., travel system, myKEY, PSMP, MyGCHR), it is critical to establish a formal mechanism to obtain regular feedback from the users on what is working and what could be improved. The feedback received would then feed into system improvements.
Lastly, although training, user guides and/or online tutorials are often made available when new technology gets released, it would be beneficial to test the material with users with varying levels of proficiency before rolling the material out to the entire public service. Some questioned the wisdom of overlaying technology onto overly complex business process, suggesting that business processes be streamlined before technology is adopted.
Chapter 3: Exposing the root causes of the irritants
In brief
Enabling interdepartmental collaboration
In Phase II, TBS established interdepartmental working groups comprised of both "rule makers" and "rule followers" to perform a deep dive into three areas: procurement, staffing, and internal processes for grants and contributions.
To mark the launch of Phase II and serve as a first step toward addressing the key findings of Phase I, the Tiger Team held a one-day forum that brought together 72 participants from 26 departments, all working on projects related to these areas. The Forum also brought together policy specialists in the three areas from Treasury Board Secretariat (TBS) policy centres and the Public Service Commission to provide expert advice about the rules. Participants also included a cross section of users: hiring managers and public servants with experience in contracting. The purpose of the forum was twofold:
to gather representatives from across government who were working on process simplification projects in these areas, in order to learn from each other's experience, share best practices and explore different approaches to problem solving; and
to identify individuals and departments interested in working with the Tiger Team as they moved forward to the second phase of the initiative.
The core of the day's activities had participants working together to address common challenges, while learning design principles to help them think more broadly about how to reduce internal red tape. These learnings were then used to work together on common areas of interest.
The results of the forum's collaborative activities formed the three-stream basis for Phase II: Exposing the Root Causes of Irritants:
The Internal Advertised Staffing Process with a National Area of Selection
Low Dollar Value Procurement (under $25,000)
The Internal Grants & Contributions Process
The Tiger Team established Interdepartmental Working Groups in each area. Through an eight-week workshop series, participants applied user-centred design thinking tools to identify the root causes of irritants and expose the pain points, as experienced by users of the processes being examined. In general, participants gathered critical information through interviews with program officers in participating departments, as well as by identifying stakeholders and mapping out the processes associated with the task. In doing so, Working Group participants were able to expose the root causes of internal red tape in each area and design possible solutions to move forward.
The methodology used during the workshop series is explained in the Methodology section of this document.
Common root causes of internal red tape
The departmental participants working in the three streams were drawn from various functional areas and a broad range of departments. They began by identifying the legislative and policy drivers – in most cases, each stream was subject to diverse legislative and policy imperatives. As the work progressed, it became clear that the root causes of the internal red tape shared common characteristics.
Of note, departmental processes and procedures were more elaborate and restrictive than required by either Treasury Board or Public Service Commission policies. Instead of using the flexibilities that existed in the policies, departments interpreted and applied policy requirements in the strictest sense. Transactions often followed the same internal process, resulting in a level of scrutiny that often outweighed the risk.
In many cases, departments had limited tools to support the process. Although basic policy requirements remain stable, there is a perception that they are constantly changing because of constant adjustments to rule-related procedures and paperwork. Clients often lacked knowledge in the area (e.g., procurement or staffing) because it was tangential to their day-to-day work and become overwhelmed by procedures and paperwork. Fear of audit was repeatedly cited as the driver for increased procedures and demands for documentation. This encourages a risk-averse culture where the functional groups play more of policing function rather than a client service provider role.
Finally, both functional specialists and clients reported being numb to the process and feeling powerless to change the system.
Procurement stream findings
Procurement Stream Findings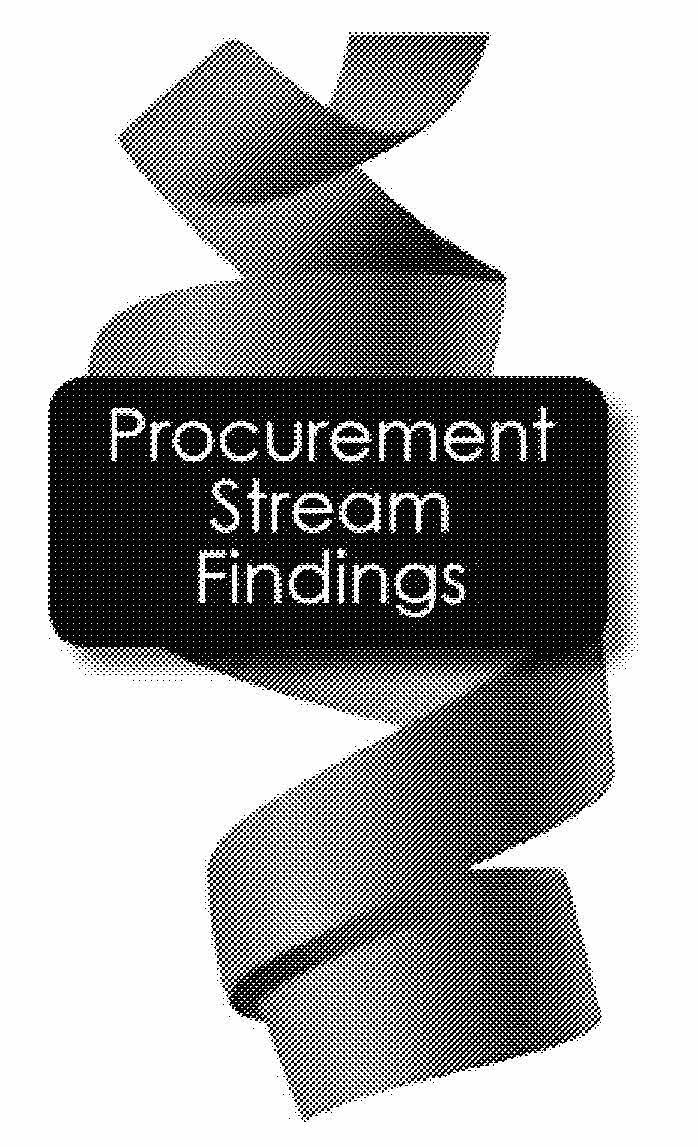 Participating Departments
Transport Canada
Infrastructure Canada
Department of National Defence
Agriculture and Agri-Food Canada
Fisheries and Oceans Canada
Central Agency Partners
Office of the Comptroller General
Public Services and Procurement Canada
Scope: Procurement of a low dollar value (LDV) service contract under $25,000
Background
A majority of service contracts (89%) issued by the federal government in 2013 were valued at under $25,000, even though they only account for 8.7% of the total value of all contracts of the year (including goods, services and construction). Although not required, 53.7% of all contracts under $25,000 are awarded through a competitive process.
A series of policies, standards and guidelines applies to the area of procurement. Treasury Board's current Acquired Services and Assets policy suite includes 20 mandatory instruments (one framework, eight policies, five directives and six standards) as well as 16 non-mandatory ones, for 36 policy instruments in total. Refer to Table 1 for a list of policies under the Acquired Services and Assets policy suite.
The main Treasury Board policy that governs procurement is the Contracting Policy, which has been in effect since 2006 and is currently under review. Many other policies that impact procurement have been put in place over the years and add new requirements, depending on the nature of the goods to be purchased (e.g., controlled goods, fleet) or the services to be acquired (e.g., security, intellectual property, official languages). There are also a substantial number of trade agreements, which include legal obligations on competitive tendering, time limits for bidding, performance-based specifications, the use of electronic tendering, and bid dispute mechanisms. Likewise, there are other legal agreements that are meant to promote socio-economic benefits for certain social groups (e.g., Land Claim Agreements, a Procurement Strategy for Aboriginal Business), industrial regional benefits, and measures to create opportunities for small and medium enterprises.
Not including internal departmental policies and guidance, there are over 35 different types of legal and policy instruments affecting procurement. Policies on the management of projects, real property, investment planning and other Treasury Board (TB) policies, such as the TB Policy on Government Security, also have an impact on procurement. As a result, procurement officers must navigate through complex and overlaying rules, many with specific social or economic policy objectives. However, there is one area of procurement in which the rules are simplest: LDV procurement.
The problem: Low return on investment on low dollar value service contracts
In general, procurement process steps are similar among departments and are already lean. Participants identified 11 common steps for a LDV service contract procurement, entitled "The Procurement Journey" In Service Design (Figure 7). That said, an examination of the cost to a department of an LDV service contract in 2013 suggests that far too much time and effort is spent on implementing this type of contract.

Using Purchasing Activity Report (PAR) data as well as estimated time (touch time and cycle time as per the Lean method) provided by participating departments, the cost (in $ and FTE time) of an average service contract in a department is as follows:
Figure 4: Key Finding about the Average LDV Service Contract in a Department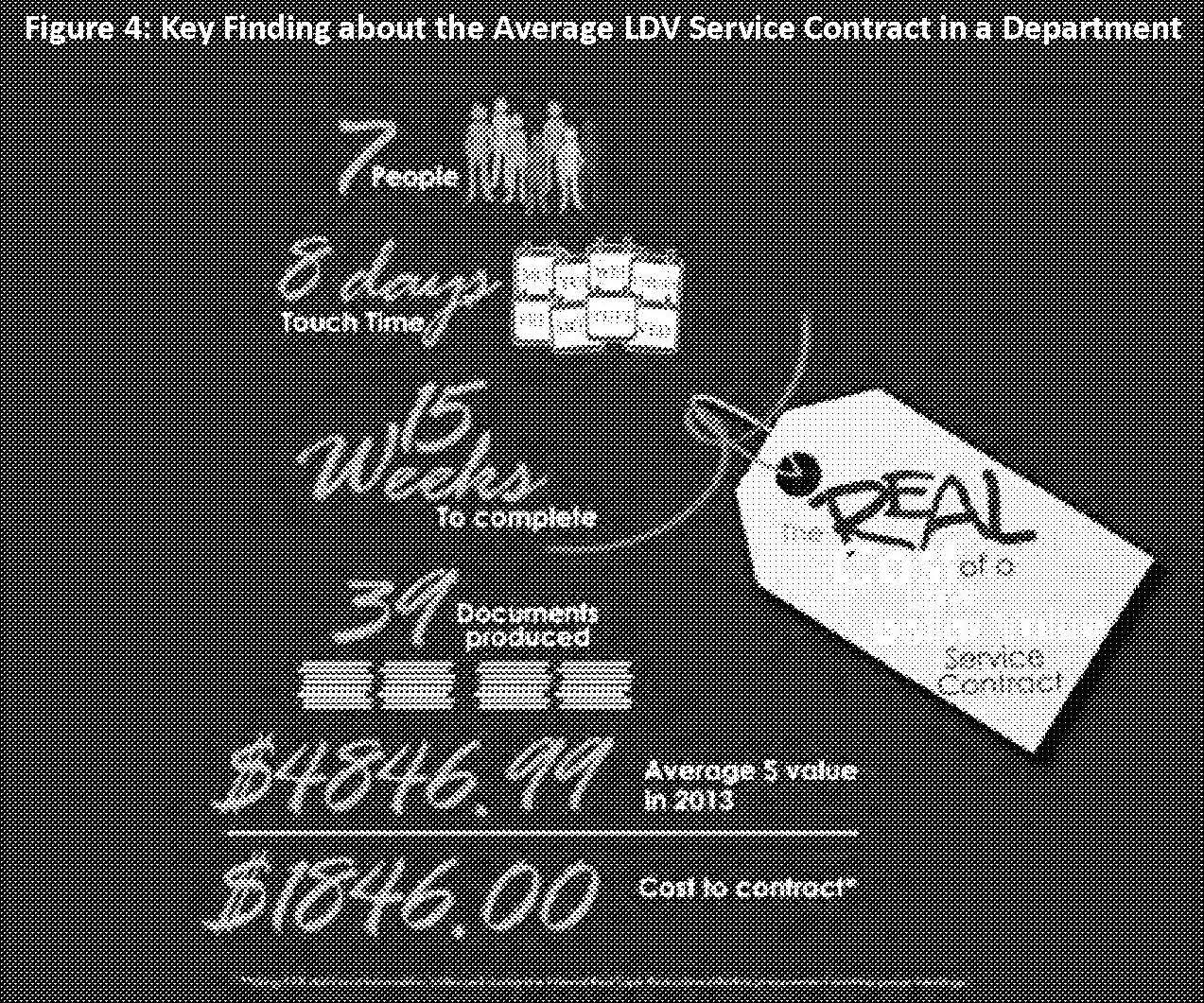 Root causes
Same requirements for million dollar transactions are applied to lDV
Many of the same steps that apply to multi-million-dollar value services are also applied to LDV services, with the same levels of controls in place. The accountability and authority that is expected to be delegated to the manager or director in reality is not, as many levels of approvals are required. This becomes more apparent when the value of the contract is above $10,000 and, as a result, is subject to proactive disclosure. The amount of work and level of scrutiny outweigh the potential risks associated with LDV transactions.
The process for procurement is already lean, as confirmed by the Interdepartmental Working Group members. The complexity of the procurement process is, for the most part, driven by the various rules that apply to procurement, depending on the nature of the service to be acquired, and other provisions including the method of procurement, the credentials of the supplier, security, IT, intellectual property, and the like, which must be taken into consideration as part of the procurement process.
Roles and expectations are unmet
Both the procurement officer and the client have to navigate complex paperwork that requires a substantial amount of time and effort, particularly in the early stages. There are too many "exceptions," depending on the nature of the service required or the method of supply selected. A "fear of audit" (internal audits, audits performed by the Auditor General of Canada, horizontal audits and others) further drives the need to document every step of the process, which, in turn, drives the heavy paperwork, all in paper format.
Key to a seamless procurement process is a positive working relationship between the procurement officer and the client. Procurement officers see themselves as experts. They receive regular training, and know the requirements and what the process entails. Most clients have little to no knowledge about the procurement process and expect the support of procurement officers throughout the process.
In most cases, procurement officers (Figure 5) do not have the time to work closely with the client. Procurement officers are overwhelmed by the sheer number of requests to be processed, the lack of clarity and the client's ever-changing requirements. Depending on the department, the level of intervention and support from the procurement officer varies. In an average department, procurement officers process 4,000 to 5,000 contracts for services under $25,000 alone, which helps to explain the immense pressure they feel. As a result, procurement officers do not feel that they have the time to provide support for clients and, often, the two do not have face-to-face meetings or any personal interaction other than by email. They expect the client to have an understanding of the rules, their needs, and the best method to contract the service, relying on advice from the procurement officer only as required. Through the workshop series, it was also mentioned that the turnover rate among procurement officers was high, which could be attributed to them feeling stressed and unappreciated. Lacking knowledge in the area of procurement, the client (Figure 6) feels overwhelmed by the process and the associated paperwork. Getting straight answers is a challenge. For those working in the regions, there could also be delays due to distance. For example, in some departments, regional officers must deal with a procurement officer located at headquarters in the National Capital Region. Participating procurement officers agree that, in procurement, the answer is often "it depends," as many decisions are made on a case-by-case basis. Clients initiating requests also indicate that, depending on who you talk to, you will receive a different answer; there is no "single truth."
Clients are generally instructed to "find it (the information) on the website!" However, they indicate that the website (their departmental internal site), when available, is difficult to navigate and not always up to date. In addition, clients are asked to review the entire policy rather than the specific requirements that may apply to their request. Moreover, additional requirements, coupled with a complex set of rules, create unease and uncertainty for the procurement officer and the client alike.
Limited tools to support the process
Managers and analysts have limited tools at their disposal to support the process. The Working Group identified 39 forms and pieces of documentation related to the procurement of an LDV service contract, from initiation of the process through to contract close-out.
Many of the steps are paper-based. Other than committing funds through the financial application system, all procurement-related transactions are paper-based and transmitted by email, as required. All parties to the process must also save and file all forms and documentation in paper format for audit purposes. Electronic signatures are not in effect, and all approvals and contracting related to signed papers are required to have a wet signature and be filed accordingly.
Proposed solutions
A fast track process for service contracts under $10,000
The Interdepartmental Working Group identified the creation of a Fast Track process for LDV service procurement as a solution to prototype and test, making sure to assess gains with respect to time and effort. In practice, a manager would be able to acquire any short-term service regardless of its nature (e.g., facilitation service for a session, one- or two-day training session, graphic design service) and without requiring higher levels of approvals. If the manager has delegated authority, he or she would be able to exercise that authority without additional approvals.
The Interdepartmental Working Group also proposed increasing the threshold for acquisition cards and allowing managers to use their authority to acquire services the same way LDV goods are acquired, with a clear understanding of the requirements.
Improve quality and availability of information
As the procurement officer is expected to play a supporting role, much like a "Sherpa," enabling the client to climb to the "summit" with a finalized and signed contract, increased collaboration between the two parties would allow for the procurement officer to share his or her expertise and experience along the "climb." The client would have a better understanding of the process and requirements, and the procurement officer would be able to better understand the client's needs and provide the best advice.
It was clearly articulated during the workshop sessions that a face-to-face meeting between the procurement officer and the client would be a valuable step, where the client would receive a "walk-through" of the process, which would in turn lead to a more efficient and effective process. However, given that face-to-face meetings are time-consuming, that procurement officers have a number of contracts to process and that they already feel overwhelmed, the Interdepartmental Working Group proposed reserving face-to-face meetings for larger, more complex contracts, and focusing efforts on improving the quality and availability of information on departmental websites, via user guides and how-to videos, to help bridge the gap in knowledge between the procurement officer and the client.
Develop an online application system
While most transactions and documents are paper-based (among the participating departments, only Infrastructure Canada has an electronic system that supports initiating and tracking a contracting request), all participants agreed that having an online application system, including required templates and a built-in approval system, would improve the process significantly. An online application system would, however, be limited until it was equipped with an electronic signature, given the auditable nature of each step and the need for wet signatures as a condition, especially with respect to delegated financial authority.
Initiatives under way
The Tiger Team is aware that Public Services and Procurement Canada (PSPC) is currently working on developing an Electronic Procurement Solution (EPS), or e-procurement, which, once fully rolled out, is expected to streamline the procurement process using a single portal. The e-procurement system would be designed to support a procurement request from the needs identification phase through to contract award, with built-in templates and audit records, and to act as a single source of truth for procurement in the Government of Canada and as a single source of disclosure for all provincial, municipal and federal awards. With this being a technological solution, it will be important that it receive ample user testing and sufficient time and resources dedicated to its implementation.
Figure 5: Procurement Officer Persona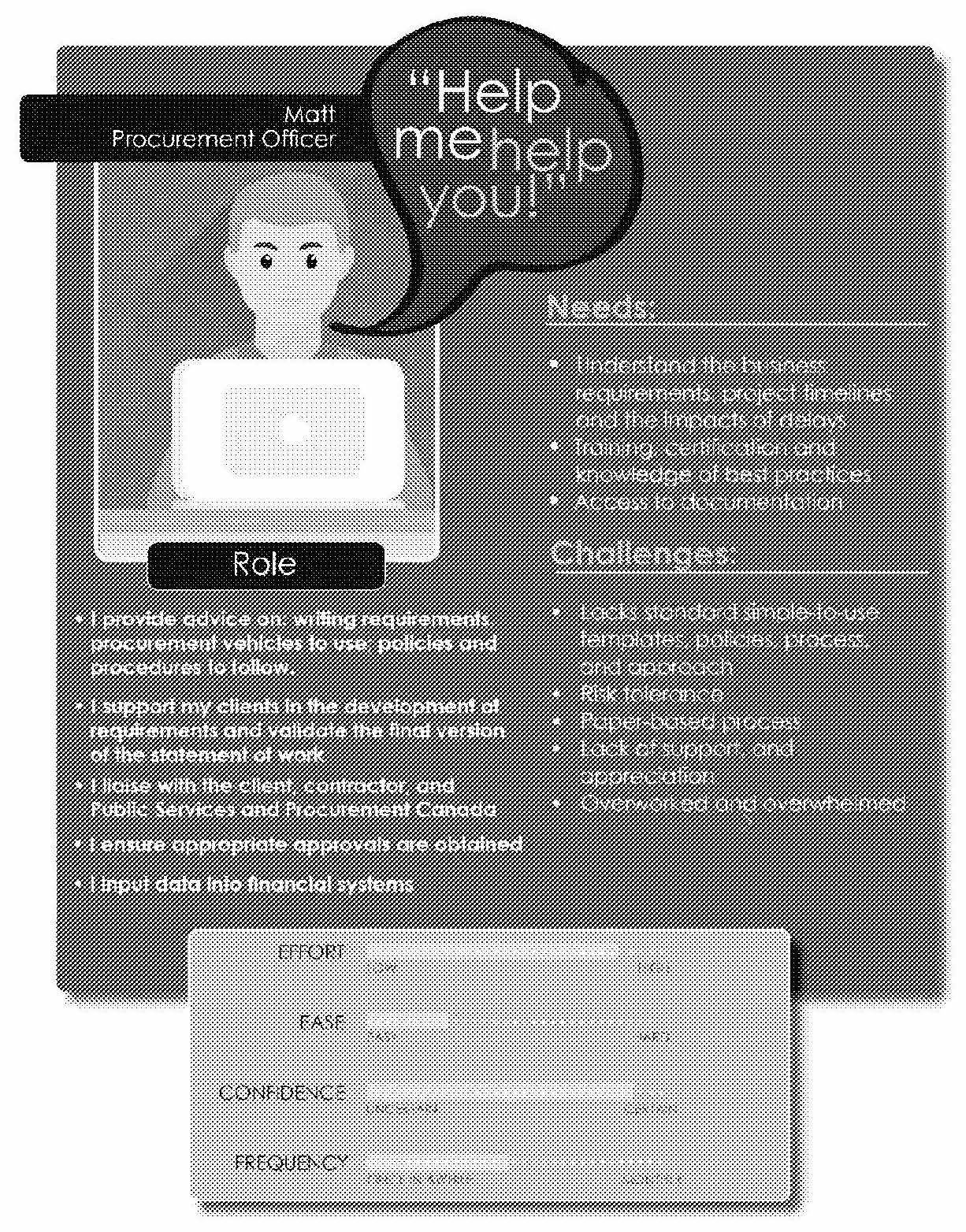 Figure 6: Manager Persona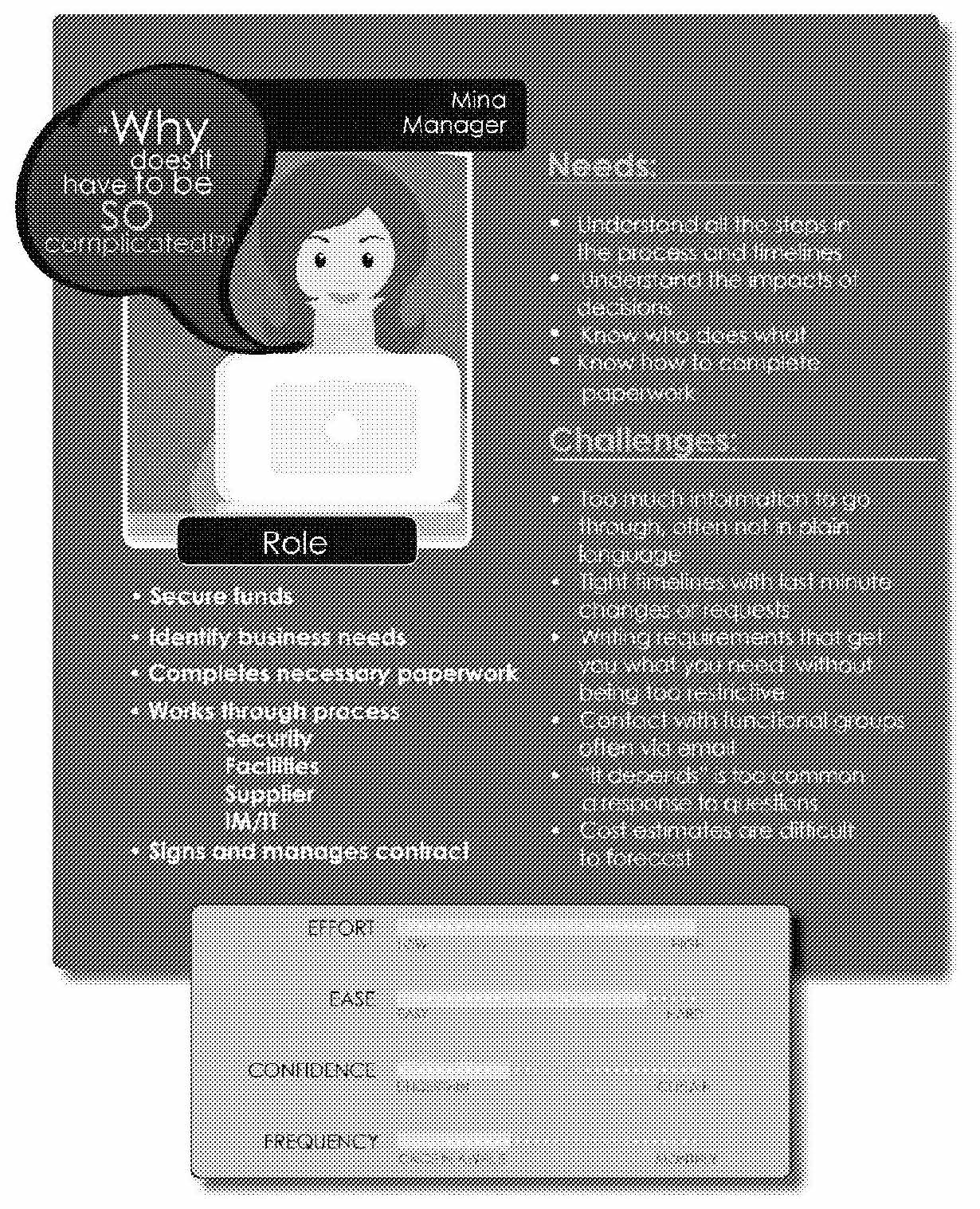 Table 1: Acquired Services and Assets Current Policy Suite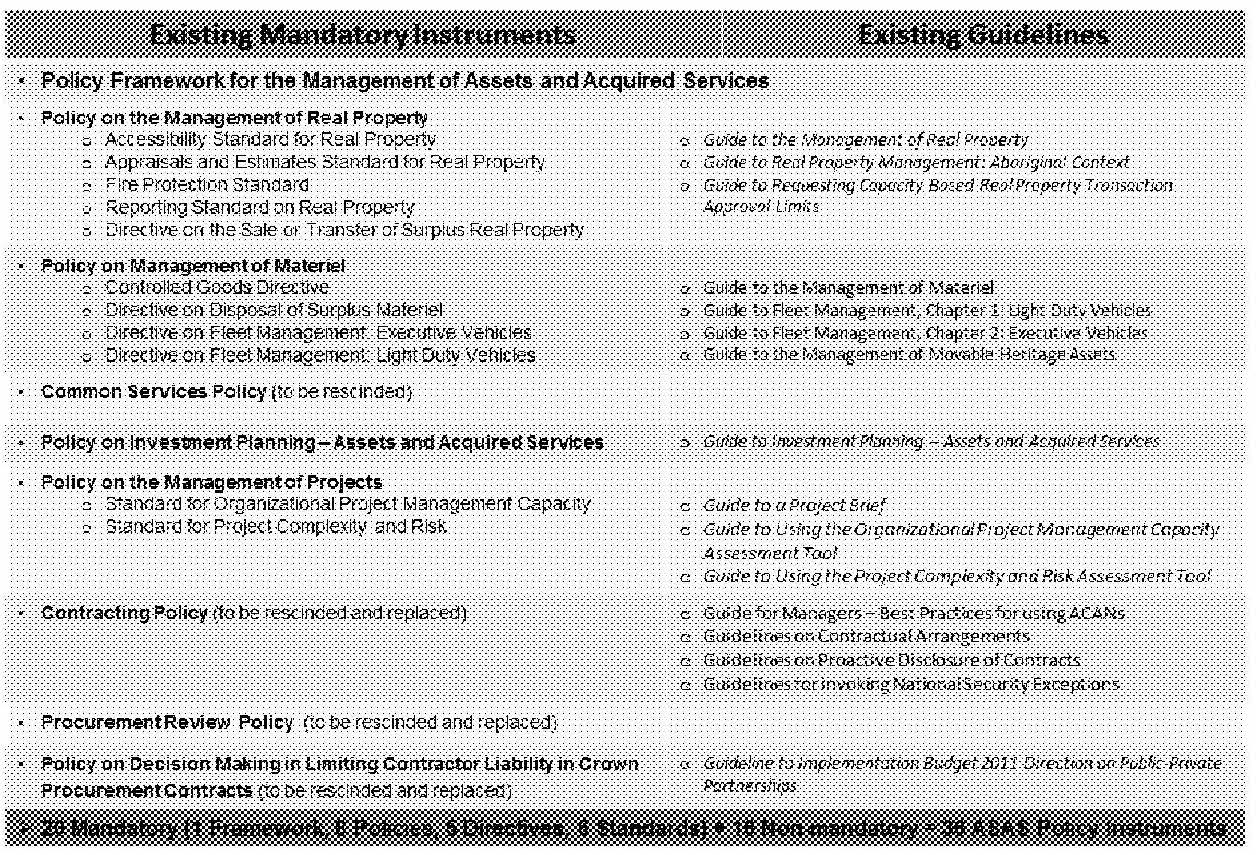 Figure 7: The Procurement Journey in Service Design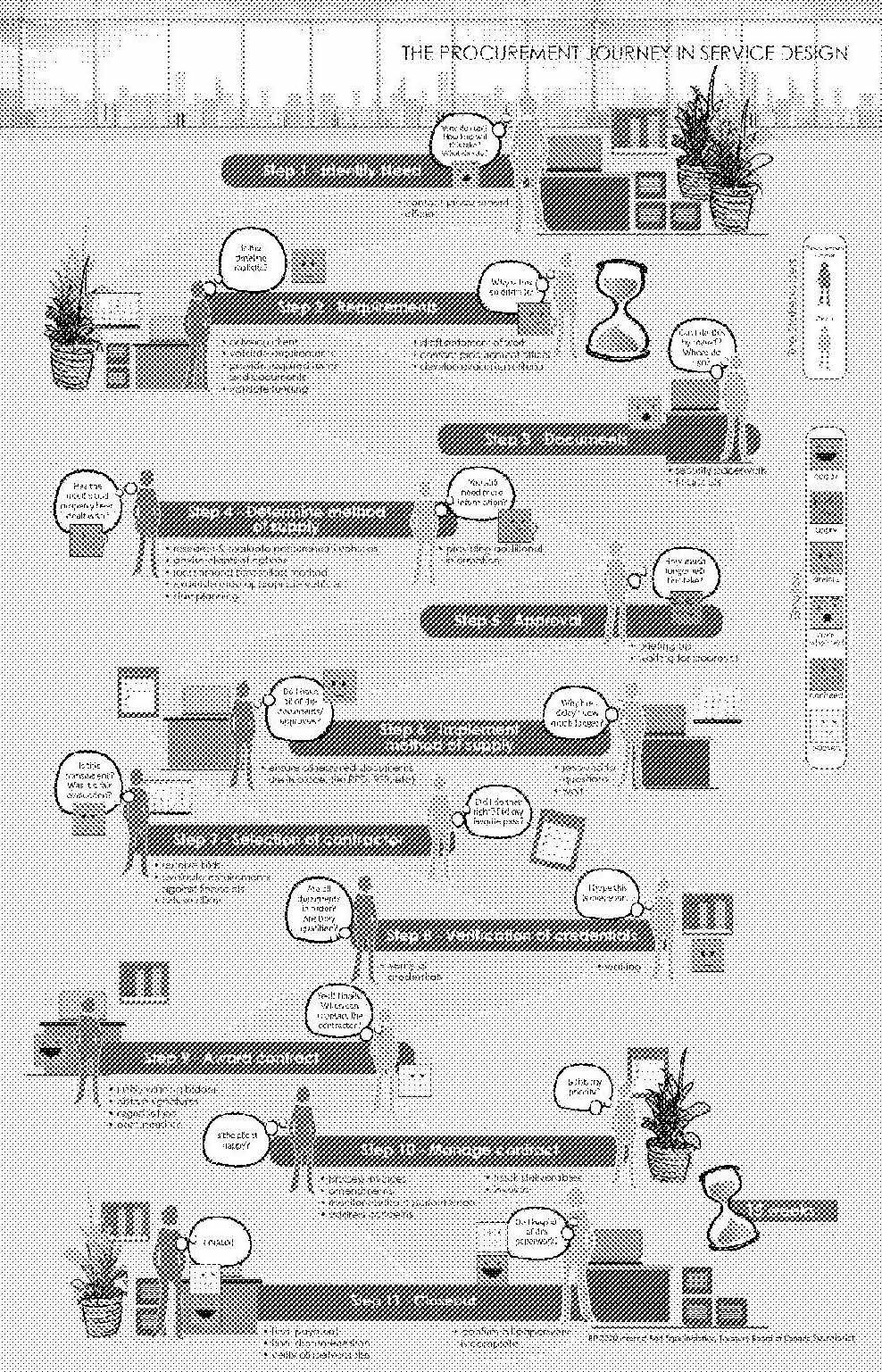 Staffing stream findings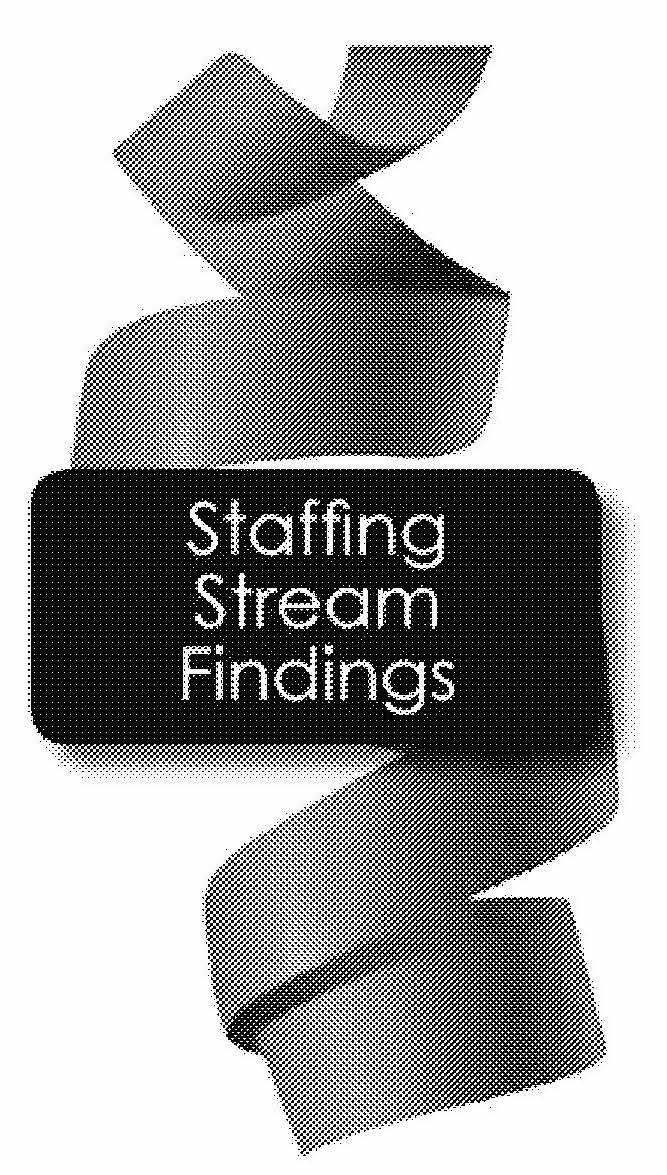 Participating Departments
Immigration, Refugees and Citizenship Canada
Fisheries and Oceans Canada
Natural Resources Canada
Public Services and Procurement Canada
Central Agency Partners
Public Service Commission of Canada
Office of the Chief Human Resources Officer
Scope: Internal advertised staffing process with a national area of selection
Background
Human resources management, particularly within the area of staffing, has undergone a tremendous amount of change over the past decade in an effort to modernize and provide more flexibility. Primary among these changes was the introduction of the Public Service Modernization Act (PSMA), which was passed into law in 2003 and enacted two major pieces of legislation: a new Public Service Labour Relations Act and a new Public Service Employment Act (PSEA). These legislative changes were intended to
"create a more flexible staffing framework to manage and support employees and to attract the best people, when and where they are needed; foster more collaborative labour-management relations to ensure a healthy and productive workplace; and clarify accountability for deputy heads and managers."
Significant investments were made across the public service to implement the new legislation, including changes to the machinery of government, the creation of new mechanisms and processes, and investments in training human resources staff and hiring managers. However, a review of the PSMA conducted in 2011 found that the federal public service still faces many of the same people management challenges it did before its introduction. The PSMA Review Team concluded that further legislative change would not be necessary. Rather, non-legislative changes, such as a sustained commitment to behaviour and culture change, offered greater promise. It further cautioned that, while new tools, processes, technology and organizations may also be required, they would not be sufficient on their own and could not substitute for real changes to behaviour.
Key roles and responsibilities
The Public Service Commission (PSC) has the mandate to promote and safeguard merit-based appointments, as set out in the Public Service Employment Act. It delegates staffing authority to deputy heads but provides policy guidance and expertise, conducts oversight of the overall staffing system, and reports on its mandate to Parliament. The PSC also works with other stakeholders, such as the Office of the Chief Human Resources Officer (OCHRO), acting on behalf of Treasury Board (TB) – which is the Employer of the core public administration – to support a high-quality workforce and workplace.
The problem: The process takes too long to complete
The Working Group collaboratively mapped out the steps for an Internal Advertised Staffing Process (Figure 8) with a National Area of Selection. A full-size version of the staffing process depicted to the left is available at the end of this section.
Internal Staffing Process (excerpt)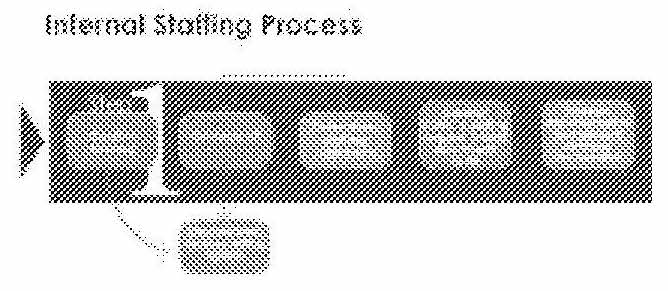 On average, there are 50 to 75 steps in the internal staffing process, amounting to an average of 40 weeks to complete. Figure 8 provides the complete mapping of the Internal Staffing Process. As shown in the table below, many of the processes can be simplified through Lean methods.
Average time to staff = 40 weeks
Number of steps in the process = 50 to 75
The most time/effort-intensive phases of the process are:
Development of the Statement of Merit Criteria and assessment tools = 2 to 3 months
Priority Reviews = 2 to 4 weeks
Initial screening = 3 weeks to 2 months, depending on volume
Assessment (exam plus interviews) = 2 to 8 weeks
Average number of days that can be reduced through eliminating waste via lean methods = 20 weeks (i.e., half)
Root causes
While heavily rule-bound, flexibilities exist but are not being fully used
According to the Working Group participants, the current rules provide enough flexibility, and this flexibility could be better leveraged. That said, departments, being risk averse, are generally hesitant to use them. This conclusion is consistent with the findings of the review of the PSMA.
Staffing is a complex policy area governed by a mix of rules ranging from legislation (both direct and indirect) to prescriptive policy guidance – an estimated minimum of 35 instruments, as listed in the table, not including related areas such as security clearance or procurement of services. However, when the Working Group conducted a "task decomposition" exercise to gain a better understanding of the "drivers," or motivating factors, behind each action (or step) performed as part of an internal advertised selection process, very few actions were required by a rule. Instead, the majority of steps taken in a staffing process can be attributed to departmental practice, or are simply the result of how things have traditionally been done.
One such step is the assessment process. Here, candidates are first assessed through their application, and then issued a written exam, followed by an oral exam, reference checks, and an interview. A great deal of discussion within the Working Group focused on why there needs to be so many layers of assessment, and whether this sequential, step-by-step approach is the best way to evaluate candidates or whether more global assessments would be more effective. The managers interviewed also stated that they would like to further explore the use of a candidate's past performance (e.g., performance management results) or on-the-job observations (e.g., in cases where someone has been acting in a position) to either replace or supplement traditional assessment methods.
Legislative and Policy Framework for Staffing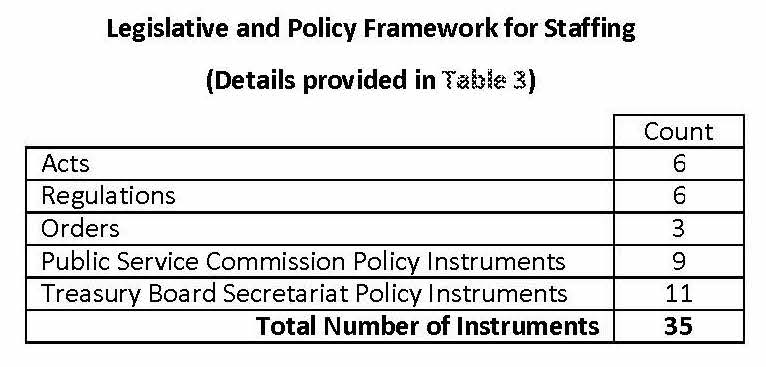 Lack of clarity about available tools and insufficient infrastructure
A significant amount of effort is spent on staffing common "entry-level" positions using individual selection processes across departments in the public service. For instance, in 2012-2013 alone, 138 internal AS-01 advertised selection processes were conducted. This raises questions about whether there is a sound rationale for conducting separate processes, given that the positions do not require specialized knowledge. If the average cost to run a selection process is $13,910, approximately $1.9M is spent annually to staff the most common entry-level positions in the public service. Additional details can be found in Table 2.
Notwithstanding the availability of some tools, the Working Group participants and the clients they interviewed expressed their frustration with not having access to a broader set of standardized public service-wide tools and templates. This can be attributed, in part, to the fact that deputy heads have delegated authority for staffing within their own departments, which means that individual departments may develop their own materials despite that many positions – particularly entry-level ones – are common across the Government. Several of the participating Working Group departments, including Immigration, Refugees and Citizenship Canada (IRCC), Natural Resources Canada (NRCan), and Public Services and Procurement Canada (PSPC), are currently working on building their own repositories for certain tools (e.g., Statement of Merit Criteria inventory, Student Bridging database, Letter of Offer builder). There was significant interest in the central agency partners establishing a public service-wide database or platform.
Absence of strategic planning and data analytics
As the baseline data shows, a significant proportion of time during a staffing process is spent in the upfront planning stages; in other words, before the selection process is even advertised. This includes corporate-level business and workforce planning as well as process-specific planning, including the design and roll-out of the staffing process and the development of materials (e.g., the Statement of Merit Criteria and assessment tools). Working Group participants spoke at length about the lack of knowledge on how to conduct proper planning as well as the lack of attention paid to planning, both on the part of Human Resources (HR) advisors and the hiring manager. The result is that staffing does not tend to be linked strategically to departmental priorities and plans.
Roles and responsibilities in conducting HR activities and HR planning, in particular, are not well-defined in departments. Who does what is often negotiated ad hoc and based on the availability of resources at that point in time, rather than planned in advance. All of the participants agreed that a lot of time is wasted as a result of back and forth interactions among managers, their administrative staff and HR advisors.
In addition, while HR provides hiring managers with planning templates to fill in, often there is little in the way of supporting context, data, or analysis. Managers fill in the templates to the best of their ability, using their best guesses as to what their staffing needs will be, in the absence of data analytics, workforce forecasting, turnover rates and the like.
Several of the managers interviewed indicated that having access to integrated HR data that is linked to financial information, as well as historical trends, business and workforce needs analyses, and forecast data would help them conduct proper planning. While the HR experts in the working group agreed that HR should help fill this gap, they note that there is very limited capacity and a lack of the necessary skills within their shop to do so.
While digging even further at the root causes of poor planning, it became apparent that a lack of consequences for the hiring manager and HR advisors alike – or, put another way, the absence of a clear incentive to do planning – may help explain this. There is no legislative or policy requirement to develop departmental HR plans. At the same time, HR is often so busy working on operational tasks that planning becomes a lesser priority.
HR advisors performing a "policing function" rather than acting as a "business partner"
As indicated previously, a lot of time is "wasted" in the staffing process owing to back and forth interactions between managers and HR, which is especially true in cases where tools and materials are not planned in advance, are developed incorrectly, or need to be revised or replaced mid-process. While poor planning is a major contributing factor, the root cause goes deeper.
Stakeholder mapping, Working Group discussions and user interviews revealed that there is an absence of trust among the parties, and thus little partnership. The lack of trust exists on both sides, with managers believing that there is little value added from consulting with HR and thus only consulting their services when absolutely necessary, and with HR believing that managers are not forthcoming about what their real staffing needs are. The absence of trust, coupled with a risk-averse culture, means that HR tends to perform a "policing" function rather than act as business partner, anticipating the staffing needs of clients and providing strategies for workforce management, such as recruitment, talent management and employee mobility.
Varying levels of dedicated resource
A common observation from Working Group participants and clients was that having a specific resource to lead and oversee the staffing process was critical to shortening the time it takes to staff. It does not appear to matter whether this dedicated resource is an administrator, a manager, an HR staff member, or even a hired third-party consultant. What does seem to make a difference is the level of commitment to the staffing process and to viewing its operation and completion as a high priority, as well as support from senior management to spend the necessary time to do staffing. We heard that there is wide variation in the amount of time an internal advertised staffing process could take – as little as two months when there is a high level of commitment among the parties involved and a dedicated resource to oversee the process, to more than six months when the process is not well planned and roles, responsibilities and activities are negotiated ad hoc.
The findings also point to a capacity issue within HR shops, where resources are chiefly devoted to operational and transactional activities as opposed to relationship-building or proactively providing strategic advice. In conducting the root-cause analysis, 11 Working Group participants cited the following as causes for the lack of strategic capacity within HR:
High rates of turnover;
HR advisors in the Personnel Administration (PE) occupational group being promoted too quickly;
Not hiring for the right skills and competencies, such as analytical ability, problem-solving and strategic thinking;
Lack of targeted training opportunities for HR advisors to improve their strategic capacity;
Working in silos, little exposure to the breadth of HR functions/disciplines, and limited access to the business realities of the organization (HR advisors do not have a good sense of what their clients do or what their business and workforce needs are); and
Too much pressure to deliver on the transactional side.
Risk aversion due to a fear of audit
Both the Working Group members and the hiring managers interviewed highlighted a culture of risk aversion within staffing and, more broadly, in HR. More particularly, HR has a fear of being audited by the PSC and found of wrongdoing, which hampers its provision of advice for managers on the full range of staffing options and flexibilities. Instead of outlining all relevant possible options to managers based on their needs, and highlighting the benefits and risks associated with each one, HR advisors tend to default to running full advertised processes. This is especially common when the HR advisor and hiring manager are both inexperienced in staffing.
At the other end of the spectrum, experienced hiring managers tend to request other, typically perceived-to-be "higher risk," staffing options, such as non-advertised appointments, but are often "blocked" by HR. This disconnect may be explained, in part, by the fact that delegated hiring managers are rarely involved in the PSC's audit process, even though they are accountable for their staffing decisions. It is usually HR that is the key point of contact for the Commission and that must provide all the documentation and justifications for the staffing action. Often, hiring managers do not know that one of their staffing decisions has been audited. Even in cases of wrongdoing, there may be little in the way of consequences for delegated managers, either because they no longer work in the department, or they receive a simple reprimand. Usually, HR bears the brunt of the audit. Only on very rare occasions, and usually with repeat poor behaviour, do hiring managers have their delegation revoked.
As a result, HR focuses heavily on ensuring that everything is documented, sometimes leading to over-documentation, which slows down the process. HR advisors also tend to avoid performing higher risk staffing actions and using alternative sourcing methods, except in cases where there is support from senior management. The leadership of senior management is important to note here. While the PSEA recognizes that staffing authority should be delegated to the lowest appropriate level, many departments have additional internal controls in place, such as ADM-level committees for all new indeterminate appointments or acting appointments over 12 months.
One could assume that this risk-averse behaviour developed in response to negative experiences and/or a high incidence of wrongdoing. However, in the past seven years, the overall rate of staffing complaints has been extremely low, varying between 0.02% and 0.04% of all internal appointments. In 2013-2014, there were only 495 complaints out of 19,406 internal appointments (0.02%). Furthermore, over 80% of all staffing complaints were ultimately resolved through mediation.
Proposed solutions
Encourage the PSC to continue and augment its work with departments in the adoption of the New Staffing Framework
One recommendation is to encourage the Public Service Commission (PSC) to continue and augment its work with departments in adopting the "New Direction in Staffing," prioritizing efforts to enable the needed culture shift and achieve a streamlined, modernized approach to staffing. The PSC recently transformed its entire Appointment Policy Framework, including the oversight/audit approach, significantly loosening its control over how departments choose to conduct their staffing. In December 2015, the PSC released a New Direction in Staffing (NDS), to be implemented in April 2016. The decision to move to the new direction is based on the Commission's conclusions that "the staffing system is mature, demonstrated by ten years of oversight results;" and that "organizational audits and DSAR [Departmental Staffing Accountability Reports] show frameworks [are] in place and working."
While the New Direction in Staffing does not change any of the existing acts, regulations or orders, the Commission's Appointment Policy has been significantly streamlined. The key message is that authority/accountability, and flexibility by association, has shifted from the Commission to deputy heads. Chief among the changes are the following:
Increasing discretion for deputy heads to establish their own organizational staffing frameworks;
Shifting responsibility for monitoring to deputy heads, with a reduction in reporting requirements to the PSC; and
Increasing delegation of authorities from the PSC to departments (e.g., the authority to extend the agreement to become bilingual for non-imperative appointments for positions in the EX group may now be sub-delegated to the Assistant Deputy Minister level).
It remains to be seen how departments will respond to the new direction and the extent to which they will utilize the added flexibilities given to them as they design their organizational staffing frameworks. It is hoped that departments will use the results gathered through the Internal Red Tape Reduction Initiative to inform these designs, particularly as they relate to incorporating the user's perspective. In order to help departments successfully implement the new Staffing Framework, PSC should leverage the opportunity and work with departments by mentoring the design and implementation of new options to create the change required in the current culture as well as to incentivize desired behaviours.
Support the role of HR as a "business partner"
A key theme that emerged in our Working Group activities and discussions was that the expectation of the services HR should be in the business of providing has shifted over time. In the 1990s, HR shops were organized by client portfolios with dedicated HR advisors who understood the business of their clients and had the capacity to provide expert advice. Over the years, and particularly during and after the Deficit Reduction exercise, there was a push to reduce spending on internal services. The emphasis was on finding technological solutions and increasing efficiencies through automation and self-service, which resulted in a shift in the service model. HR shops across government were consolidated and/or centralized and reduced in size, and the work traditionally performed within HR shifted to be carried out by managers or reassigned to administrative staff. In many instances, departments changed their organizational structures to put in place groups of administrators that would handle the coordination of certain HR and financial processes, sometimes referred to as "shadow shops."
In user interviews, hiring managers shared that they felt that HR is no longer able to provide the services that they expect, that HR is often out of touch with their clients' business, and that they possess limited expertise in providing strategic advice. This was validated by the Interdepartmental Working Group participants, who were honest in stating that they are encountering difficulties in defining what the business of HR should be, and in building up a sufficient level of capacity among the staff. They noted that a large proportion of HR staff are so used to performing transactional work that it will be a challenge to change current behaviours. At the same time, however, there is a sub-population of HR advisors who are eager for change and want to be provided with the freedom, trust and time to take on a strategic role and build partnerships with their clients.
In the short term, HR managers can begin by exploring options for improving the strategic capacity within their shops and opportunities for enriching their HR advisors' current skill sets, via recruitment, and training and development planning, such as the course offerings on human resources planning, and providing strategic advice at the CSPS. Equally important is the Government giving consideration to providing training in data analytics that is specifically geared to the HR practitioner.
Clarify behaviours expected of HR advisors
Ultimately, however, any shift in the HR function needs to be firmly grounded in a clear understanding of what types of behaviours are expected of HR advisors in their current environments; what types of deliverables or actions are rewarded and what types are discouraged, either overtly or inadvertently; and what behaviours HR advisors are assessed against in evaluations of performance.
The fields of psychology and behavioural economics may offer some insight into why the staffing system has been slow to change despite various legislative (e.g., the Public Service Modernization Act) and process changes (e.g., implementation of Common HR Business Processes) and may, more specifically, help to understand the important questions that this work raises, such as:
Why departments are not maximally using the staffing flexibilities available to them;
Why the focus of HR continues to be transactional work and documentation despite client requests for advice and partnership;
Why HR is risk averse when there are few instances of staffing complaints;
Why departments continue to have in place burdensome internal controls when the temporal requirement/risk (e.g., Deficit Reduction) has passed; and
Why legislative, process and structural modernization efforts (such as the PSMA, and implementation of Common HR Business Process and PE Generics and job descriptions) have not had the desired effect of improving HR services and shifting the culture of HR.
As the literature suggests, individuals have a tendency to prefer the current state of affairs, having what is called a status quo bias, where the current state is perceived as superior even in the presence of available alternatives. Status quo bias interacts with other non-rational cognitive processes, such as loss aversion. In prospect theory, the phenomenon of loss aversion is described as the tendency for people to have a strong psychological preference to avoid losses over acquiring gains. Research suggests that losses can be twice as powerful psychologically as gains, which helps to explain the aversion to taking risks, particularly if we also consider the effects of the principle of availability. Availability refers to the fact that events that more easily spring to mind, such as recent, traumatic or burdensome events (e.g., being audited by the Public Service Commission) will have more of an influence on our behaviour. This may help explain why HR continues to assume a policing role – in response to a fear of audit – thus perpetuating the over-documentation of staffing files and limiting the use of flexibilities available to them and their clients.
The adoption of a behavioural economic lens may help to design and put in place either
The right economic incentives for behaviour change, such as changing what aspects of HR services are monitored and measured (quantitative service standards, including response time, time to staff, etc., and qualitative measures, including quality of advice, dependability, quality of hire, etc.). Reviewing what objectives are measured in employee performance management agreements may also be a fruitful exercise; or
Subtle "nudges," which take less effort to implement and influence behaviour primarily by changing the way that choices are presented in the environment. This could include making available key pieces of information or framing the information in such a way that actors can make better informed decisions (e.g., demystifying the risks associated with certain staffing options, as a start).
Initiatives under way
There are currently a number of large government-wide transformation efforts taking place in staffing and in people management, more broadly including
The PSC's new direction on staffing;
The implementation of My GCHR and Phoenix pay systems;
The Interoperability and Business Intelligence project to link and enable data flow among various HR-related IM/IT systems;
Treasury Board Secretariat's Policy Reset, which includes a full redesign of the existing suite of people management policies, among other policy areas;
A new curriculum at the Canada School of Public Service for HR practitioners; and
Ongoing work by the Office of the Chief Human Resources Officer to transform HR services and to keep the Common HR Business Processes current.
At the same time, departments are working to redesign their own organizational staffing frameworks to increase efficiency, efficacy and workforce agility.
Each of these projects offers an opportunity to apply the learnings gathered through the Internal Red Tape Reduction Initiative and to shift the incentives in the system to effect real behaviour change and, ultimately, strike the appropriate balance between control and the provision of the level and type of service that clients expect, including strategic advice.
Figure 8: Internal Staffing Process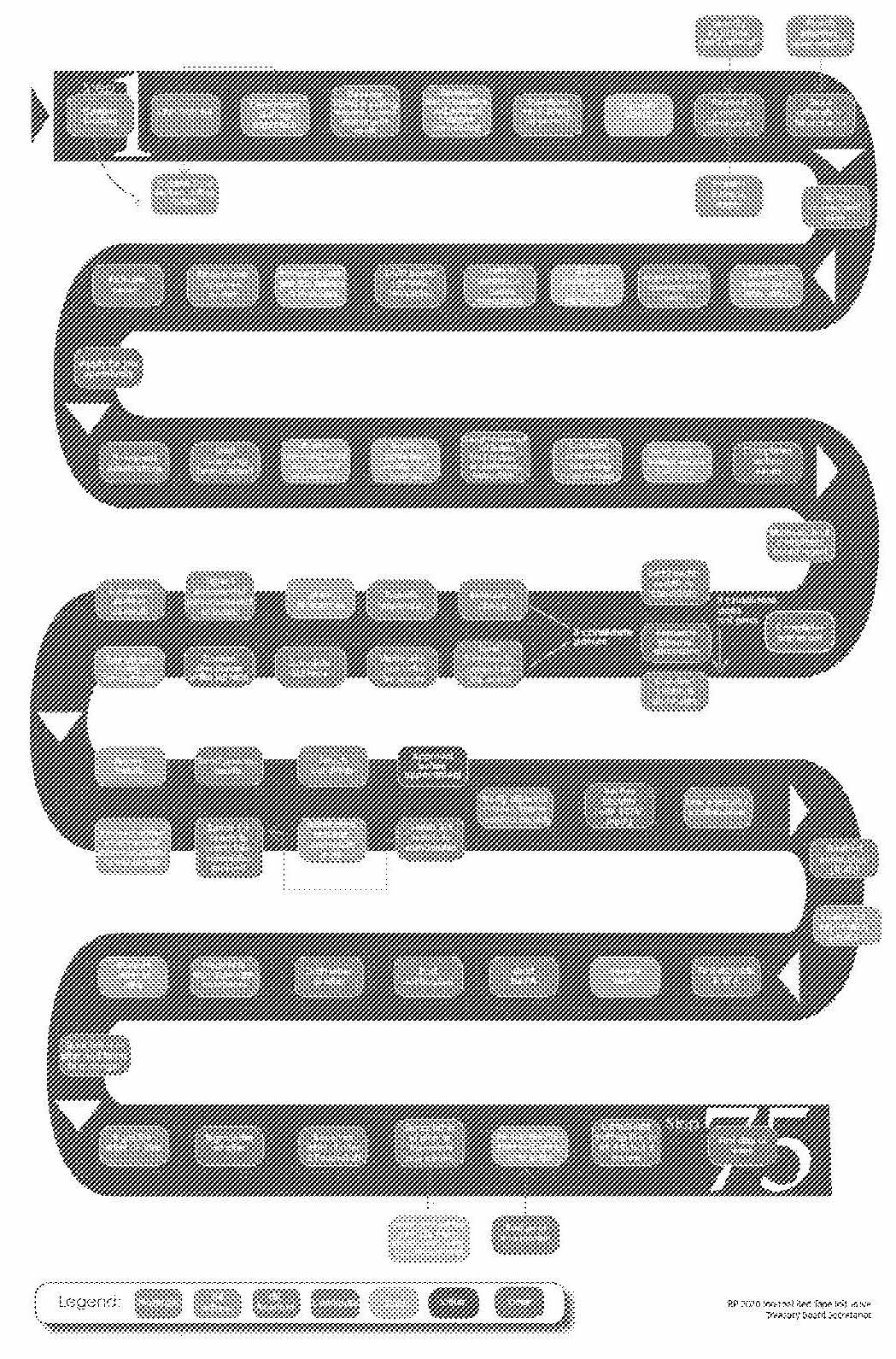 Table 2: Staffing of Common Positions across the Public Service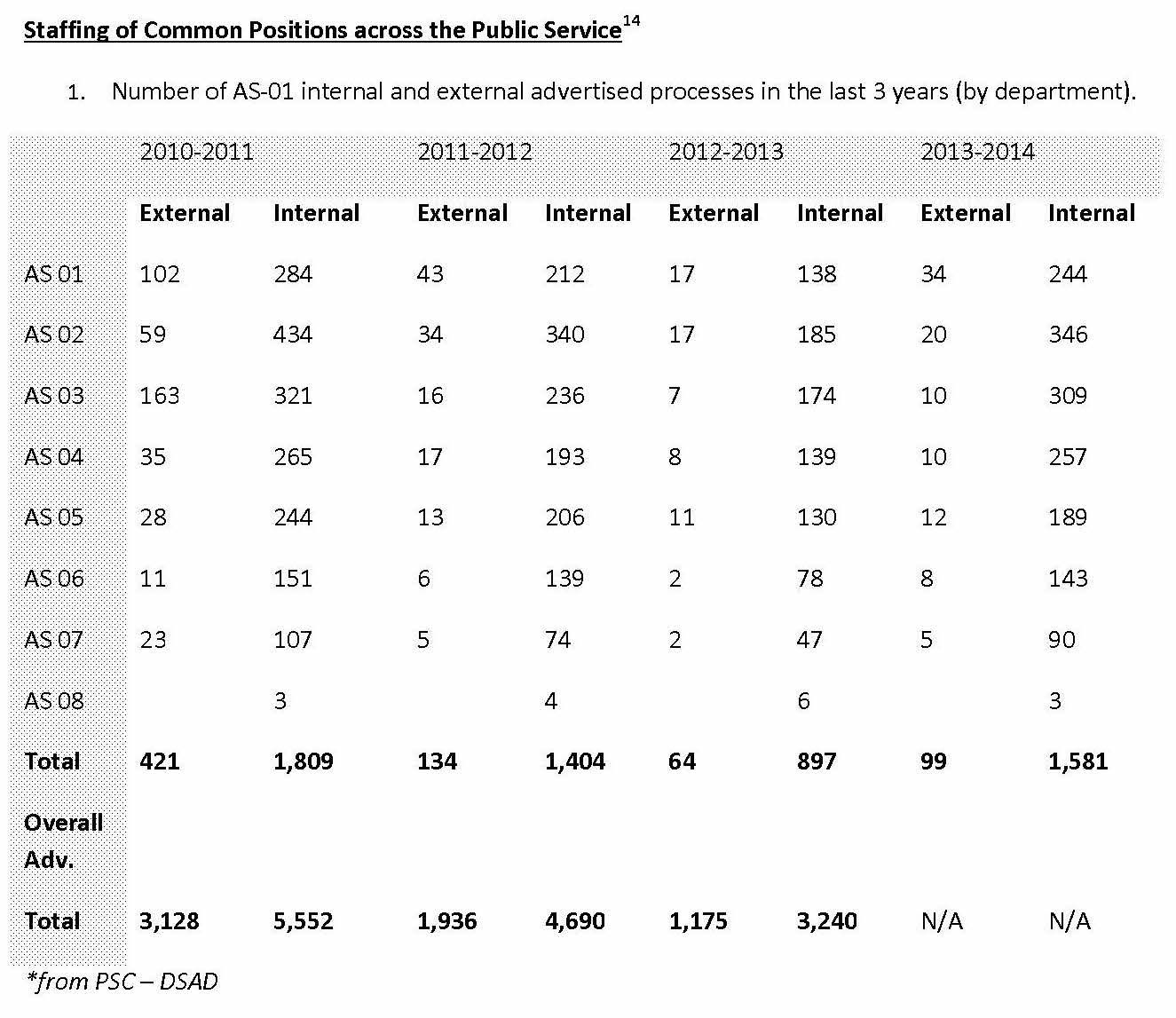 Appointments to and within the PS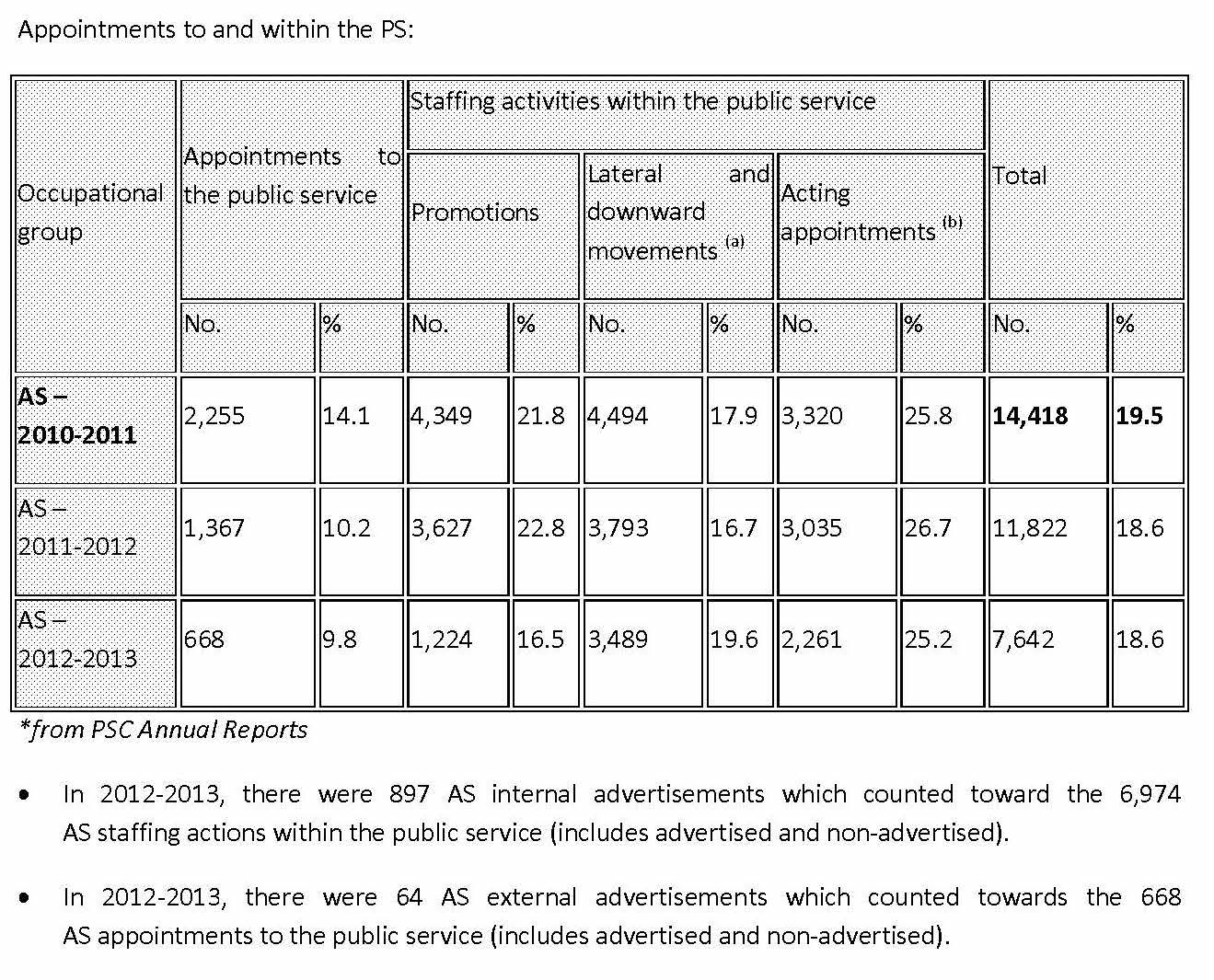 Table 3: List of Staffing-Related Acts, Regulations and Central Agency Policy Instruments
Acts (6)

Canadian Human Rights Act
Employment Equity Act
Official Languages Act
Public Service Employment Act
Public Service Labour Relations Act
Public Service Labour Relations and Employment Board Act

Regulations (6)

Public Service Employment Regulations
Appointment or Deployment of Alternates Regulations
Indian Affairs and Northern Development Aboriginal Peoples Employment Equity Program Appointments Regulations
Locally-Engaged Staff Employment Regulations
Public Service Official Languages Appointment Regulations
Student Employment Programs Participants Regulations

Orders (3)

Appointment or Deployment of Alternates Exclusion Approval Order
Public Service Official Languages Exclusion Approval Order
Student Employment Programs Participants Exclusion Approval Order

Public Service Commission Policy Instruments (9)

Appointment Policy Framework
Official Languages in the Appointment Process Policy
Area of Selection Policy
Priority Administration Directive
Guide on Priority Administration
Appointment Delegation and Accountability Instrument
Advertising in the Appointment Process Policy
Policy on Employment Equity in the Appointment Process
Guide to Implementing the Policy on Employment Equity in the Appointment Process

TBS Policy Instruments (11)

Values and Ethics Code
Policy on the Duty to Accommodate Persons with Disabilities
Employment Equity Policy
Student Employment Policy
Policy on Interchange Canada
Directive on Interchange Canada
Term Employment Policy
Terms and Conditions of Employment for Students
Terms and Conditions of Employment
Directive on Terms and Conditions of Employment
Policy on Conflict of Interest and Post-Employment
Grants & Contributions Stream Findings
Grants & Contributions Stream Findings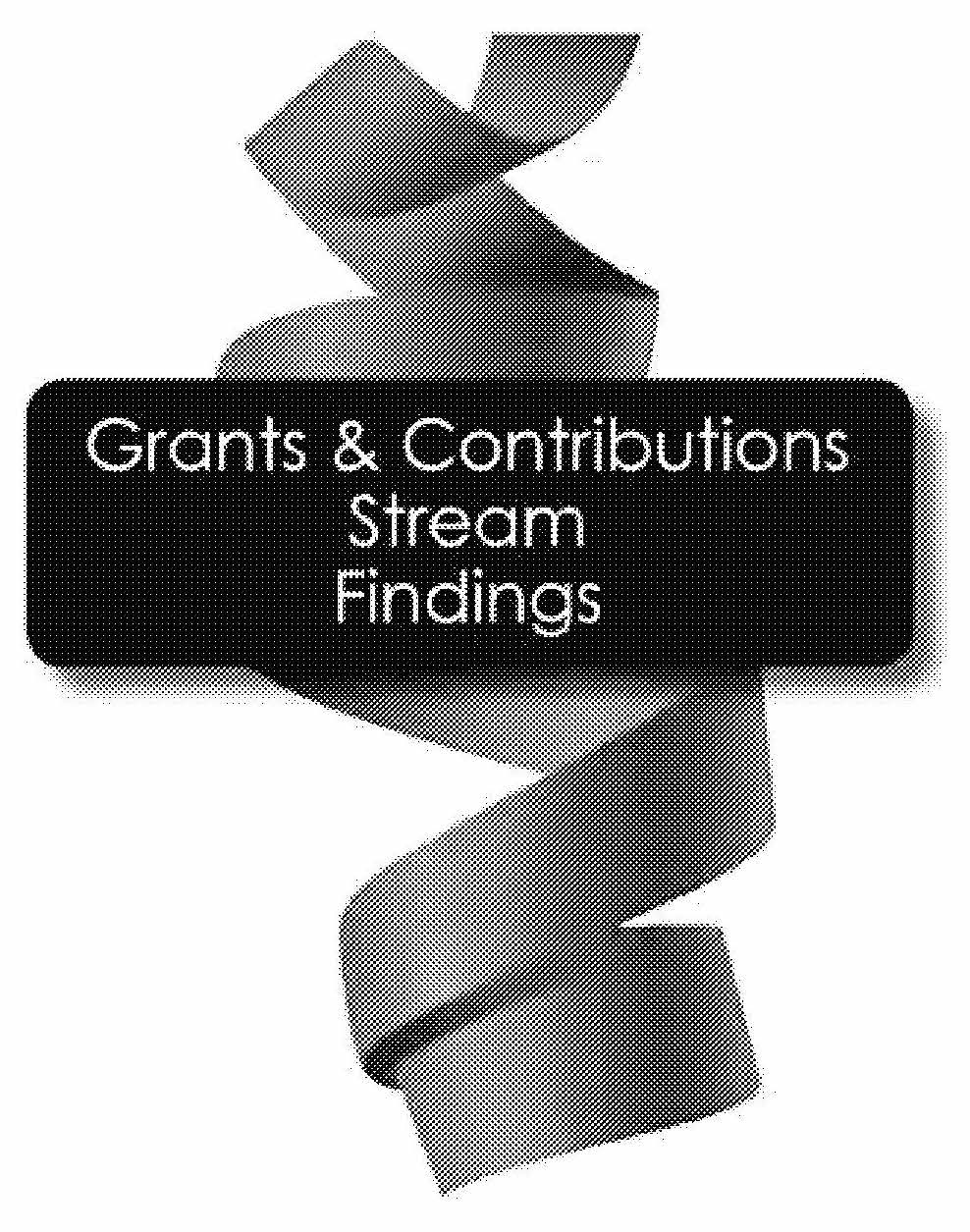 Participating Departments
Immigration, Refugees and Citizenship Canada
Fisheries and Oceans Canada
Agriculture and Agri-Food Canada
Canadian Heritage
Infrastructure Canada
Scope: The grants and contributions process
Background
Transfer payments are a key instrument for furthering the Government of Canada's broad policy objectives and account for a large part of government spending. In 2014-2015, the Government issued approximately $143 billion in transfer payments,15 the majority of which were transferred to other levels of government and individuals through programs with ongoing spending authority. However, a significant portion – $26.2 billion – was transferred through Grant & Contribution (G&C) agreements.
Projects funded through federal G&C agreements are diverse and have a direct impact on Canadians where they live and work. They range from services and support for new immigrants, to health research and employment programs, to investments in the responsible development of natural resources. Recipients of Government funding work with the Government as a partner in the pursuit of shared objectives, including the promotion of Canada's economic and social development. By properly managing G&C programs, the Government is able to provide efficient, effective programs that are responsive to the needs of Canadians, while ensuring accountability for the proper use of public funds.
The problem: One size fits all assessment
The Tiger Team found that, in participating departments, every application, regardless of size, complexity, or history with the department, is assessed in exactly the same manner, with the same level of scrutiny. However, departments have been moving to a more risk-based approach, as requested by the policy on transfer payments. Canadian Heritage appears to be the most advanced in this regard, with a "triage" system in place that is applied upon receipt of the application in order to assess its complexity and the amount of time it will likely take to move through the process. Some of the participating departments indicated that a triage system could assist them in streamlining their process, and that they would be making a proposal to their senior management.
Step 2: Program Officer completes Triage (excerpt)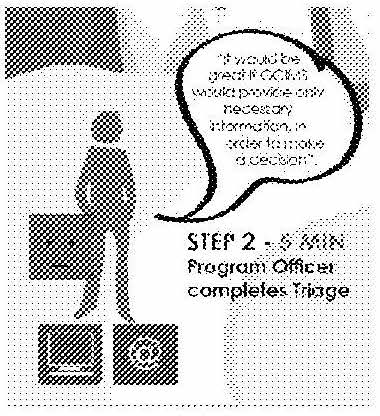 Root causes
Additional safeguards with no value added to the process
There are a number of mechanisms in place to safeguard taxpayers' resources.
Step 7: Regional Review Committee and Step 8: Secretariat Review (excerpt)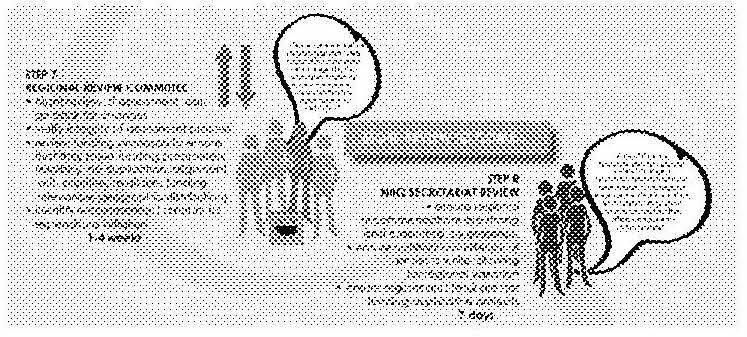 These mechanisms range from restricted delegated approval levels to the establishment of various review committees. Participants agree that having the appropriate safeguards in place is necessary to ensure that resources are properly accounted for and disbursed in a fair and transparent manner. However, there was consensus that, in many cases, additional safeguards do not add value to the process, and that it would be appropriate to review existing approval processes to determine whether streamlining is an option.
Technological systems not designed with users in mind
All Working Group participants agree that the current technology was designed without a clear understanding of how the user navigates the business process, and with assumptions about the user's comfort level with technology. The result is that many users are not as "technologically savvy" as expected, and therefore tend to under-utilize the tool.
Furthermore, the Working Group noted that, for some departments, the standardization of forms means that substantially more information is requested than what is needed to make a funding decision. In addition, "random questions" from review committee members, by default, often become a permanent part of the information gathering exercise, thus feeding the collection of extensive documentation that may or may not be used in the assessment. As a result, program officers spend an inordinate amount of time assisting applicants in piecing together this unused information and entering it into IT systems, which, for the most part, are not designed to house large amounts of data.
Disconnect between program analysts and departmental decision-making processes
During the interviews, there was a great deal of feedback around the lack of transparency and openness within departments, as well as externally with clients. This was a common theme that emerged across all the interviews, with slight variations by department. It was noted that information was not always, if at all, disseminated to the program officer in a timely manner. This has a direct impact on the ability of program officers in most participating departments to also provide timely information for their clients (Figure 14). More particularly, once an application moves to the approval stage at senior levels of the department, program officers often lose track of the file, with the result that they are unable to update their clients accordingly. While participating departments have systems that are able to track internal movement, they are generally ill-equipped to provide detailed information about the status of the application at that stage. Interviewees reported that the results of various working group discussions often remain localized, with the outcomes not being widely disseminated, leaving program officers with the feeling that they are being left behind by the "process." As part of the workshop, the persona (Figure 14) of the program officer was mapped out to gain a better understanding of the program officer's role, needs and challenges.
Proposed solutions
Improve delegation of authorities
The Working Group recommended that discussion take place within departments, including at the Ministerial level, where appropriate, to examine the current delegation of authority and explore options for improvement. More specifically, the Working Group suggested discussion around the following:
Adopting the Principle of Subsidiarity, where the aim is to "ensure that decisions are taken as closely as possible to the citizen."
Reviewing the delegation architecture of other public service G&C programs to identify best practices, as well as the impact of service standards on the applicants' operations and the Government's mandate, if any.
Modifying the role of the review committees from approval-based to reporting and/or oversight, as well as moving the committees to the front end of the process to better use their feedback and improve communication.
Random sampling of approved applications to assist in the development of baseline data to identify trends or issues that require attention.
Over the long term, the Working Group urged that consideration be given to ensuring that a systemic approach to critically assessing the positive and negative effects of proposed and existing regulations and non-regulatory alternatives (similar to a Regulatory Impact Analysis) is performed before implementing any new processes. Doing so would help to ensure that no additional administrative burdens are introduced without fully considering the impacts. In the meantime, participants underscored the need for further analysis of the relationship between audit and red tape to gain a better understanding of the nature of this relationship.
Review the delegation architecture of other public service G&C programs and apply similar parameters
At the onset of this project, one of the fundamental assumptions the workshop participants held was that the Transfer Payments Policy (TPP) was a significant "pain point." To test the validity of this assumption, the Tiger Team mapped out the steps performed during the application process with the requirements of the TPP and the accompanying Directive. Participating departments were also asked to specify which part of the TPP was a concern. After discussion and analysis, Working Group participants concluded that while challenges exist within certain parts of the TPP, the TPP is not a "pain point" in the application process. "Pain points" are driven by department-imposed steps rather than mandatory Treasury Board oversight mechanisms.
The Working Group recommended that departments engaged in grants and contributions inventory and examine the non-obligatory and informal approvals currently in place and "challenge" their practice within the G&C process. The Working Group further recommended that Treasury Board continue to engage stakeholders around changes to the TPP and its related instruments, with the goal of ensuring that the policy is well understood by the users.
Timely status updates for clients and program officers
Working Group participants recommended that departments review and ensure that communication protocols for providing clients with timely updates about the status of their application at all stages of the process are in place. Doing so would serve the two-fold purpose of safeguarding the openness and transparency of the process and bringing program officers back into the process, thereby returning to them a sense of accomplishment and fulfillment in seeing the results of their work with their clients firsthand.
Empathy for program officers
During the workshops and interviews, it became clear that further study was needed, especially with respect to the program officers, to gain a better understanding of the work they perform, their personal experiences with the process, and, more specifically, their feelings around a "lack of engagement and communication" with senior levels of the department and as a valued part of the process. Working Group participants recommended the establishment of an Occupational Group study and a talent management strategy, with the goal of ensuring that appropriate mechanisms are in place to support job satisfaction and promote opportunities for career development.
Apply design-thinking to the process
Workshop participants recommended that departments working in grants and contributions explore ways of incorporating design practices into their ongoing business and that the Government share and promote design practices more broadly across the enterprise.
In the long term, the Working Group recommended that those involved in determining business and system requirements be exposed to User-Centred Design to ensure that end users are involved in the design, implementation and testing of system improvements that meet their needs.
Initiatives under way
Treasury Board of Canada Secretariat (TBS), led by the Financial Management Transformation (FMT) Team (within the Office of the Comptroller General of Canada, (OCG)), embarked on a collaborative effort with G&C organizations to develop an enterprise solution that addresses issues around four key areas: increasing financial constraints, the continuing need for transparency, efficiency gains, and service delivery improvements. Central to this initiative is a common business process model, developed in collaboration with TBS partners and formally endorsed by the G&C Assistant Deputy Minister (ADM) committee, to aid in standardizing business practices and performance measurements and encouraging information sharing across departments. It is hoped that this enterprise tool will ultimately reduce duplication, increase efficiencies and improve consistency within the area of grants and contributions across the federal government. While the focus of this group is a technology-based solution, it is hoped that the findings from the G&C Working Group will provide insights into its development.
Figure 9 – The Agriculture Journey in Service Design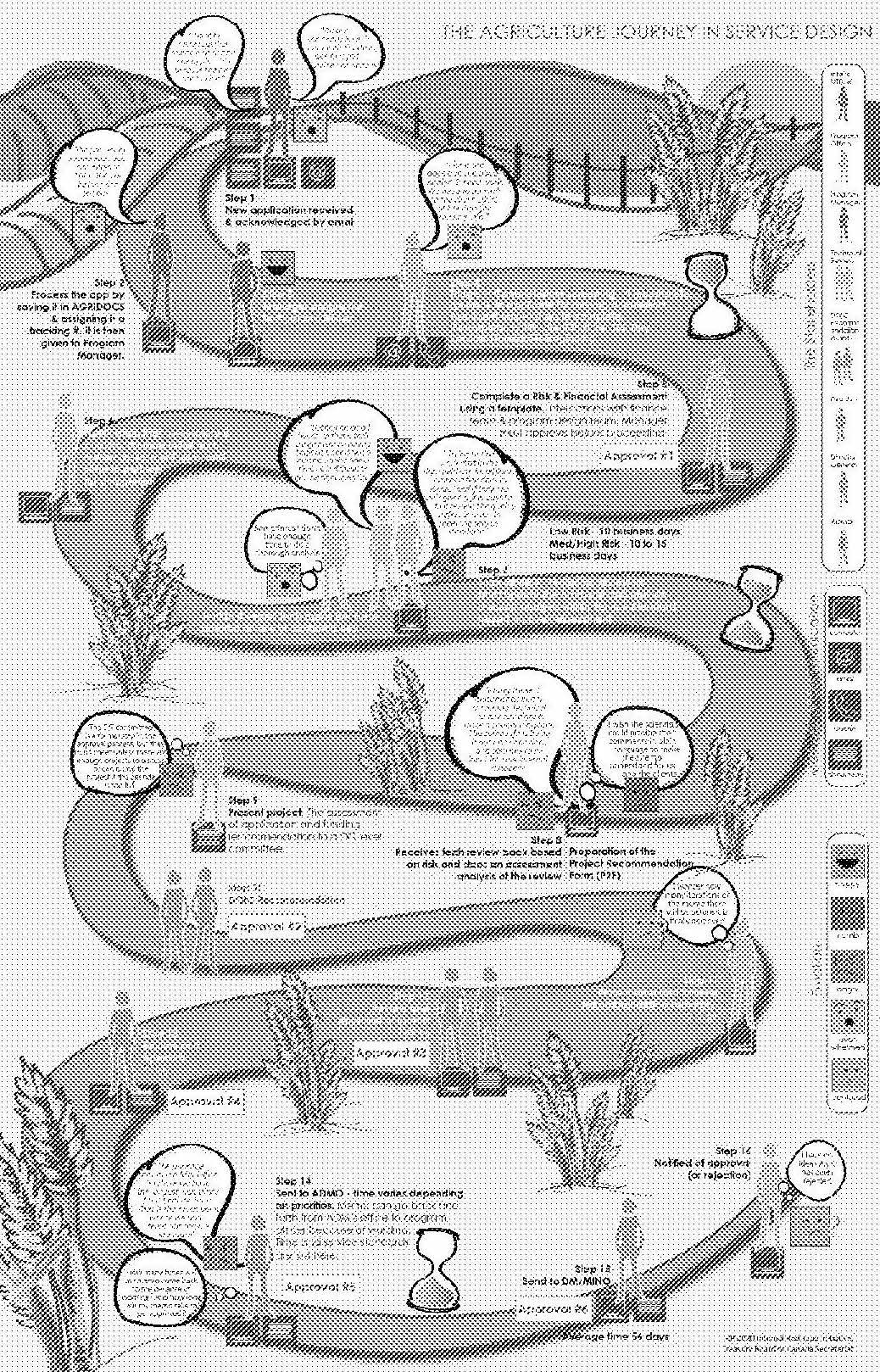 Figure 10 – Citizenship & Immigration Canada in Service Design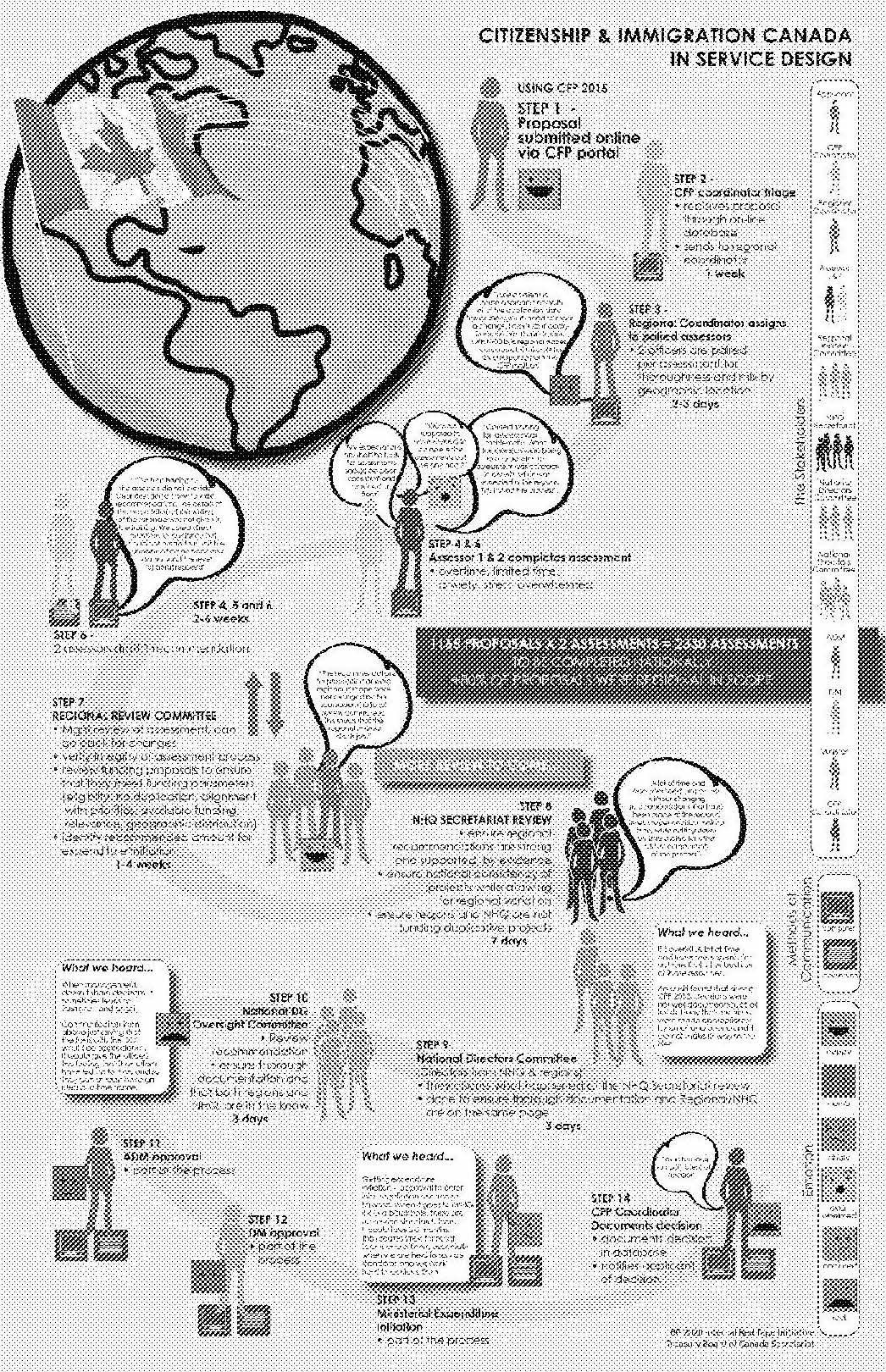 Figure 11 – Fisheries & Oceans Journey in Service Design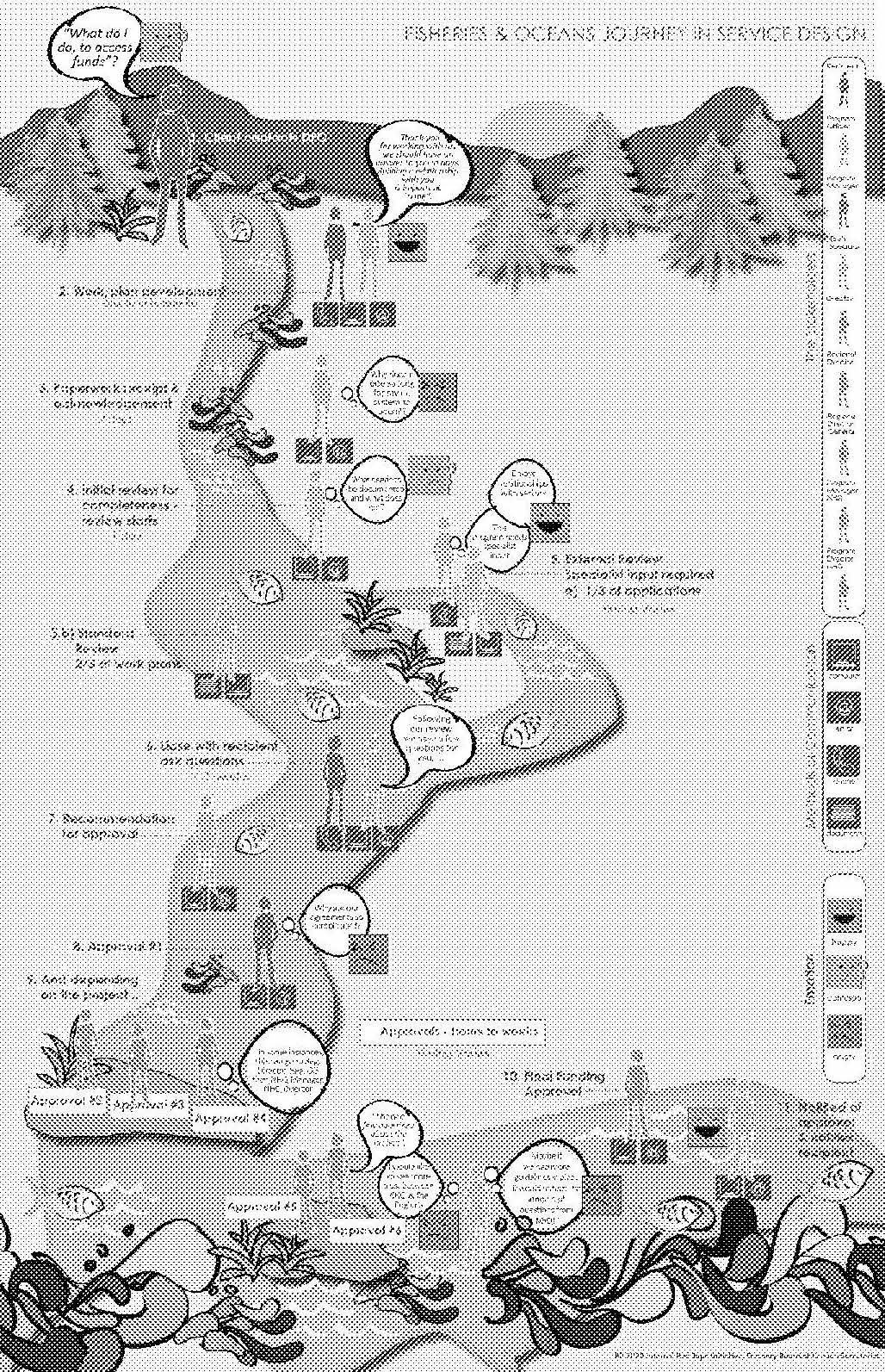 Figure 12 – Canadian Heritage in Service Design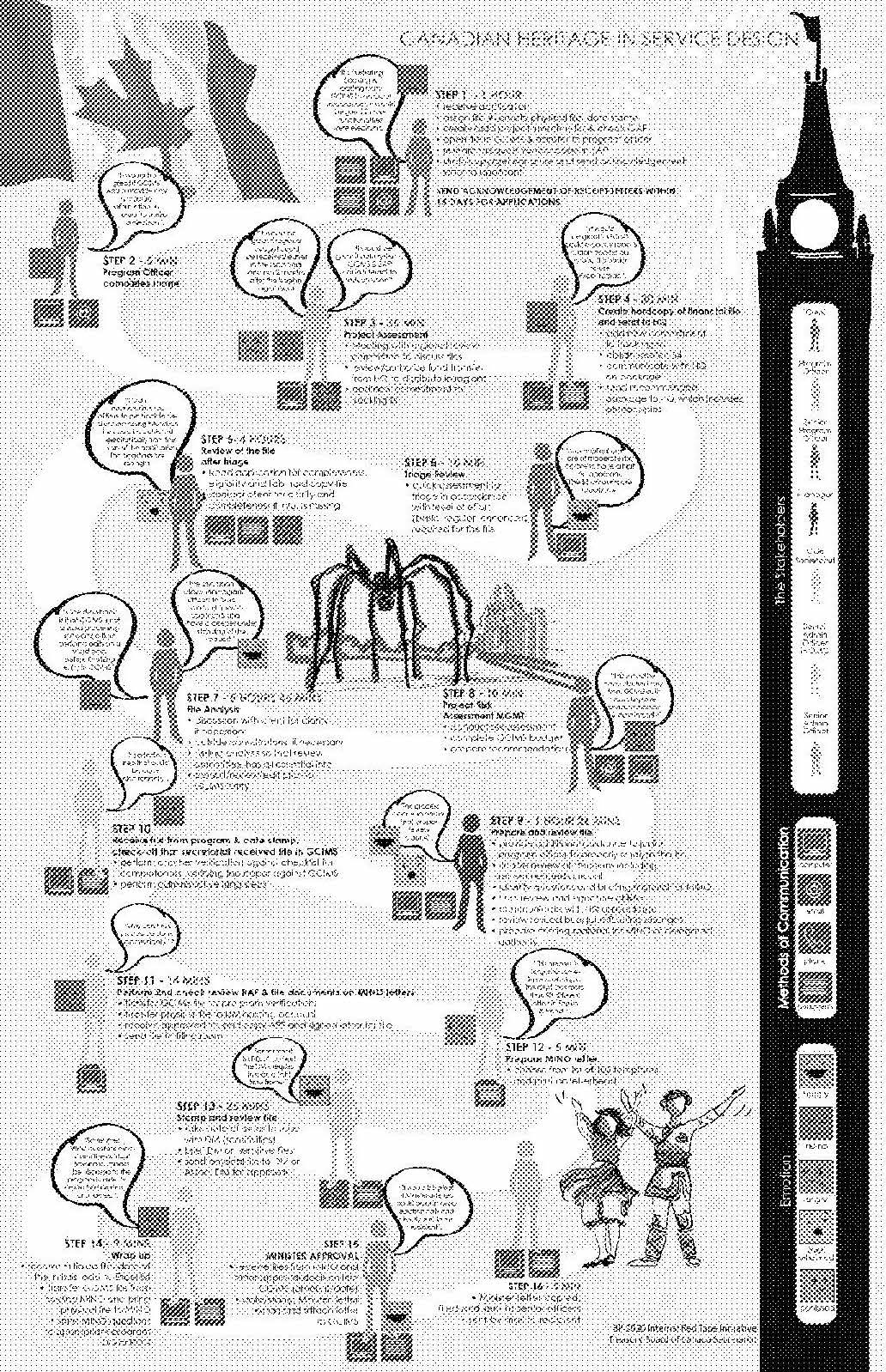 Figure 13 – Infrastructure Journey in Service Design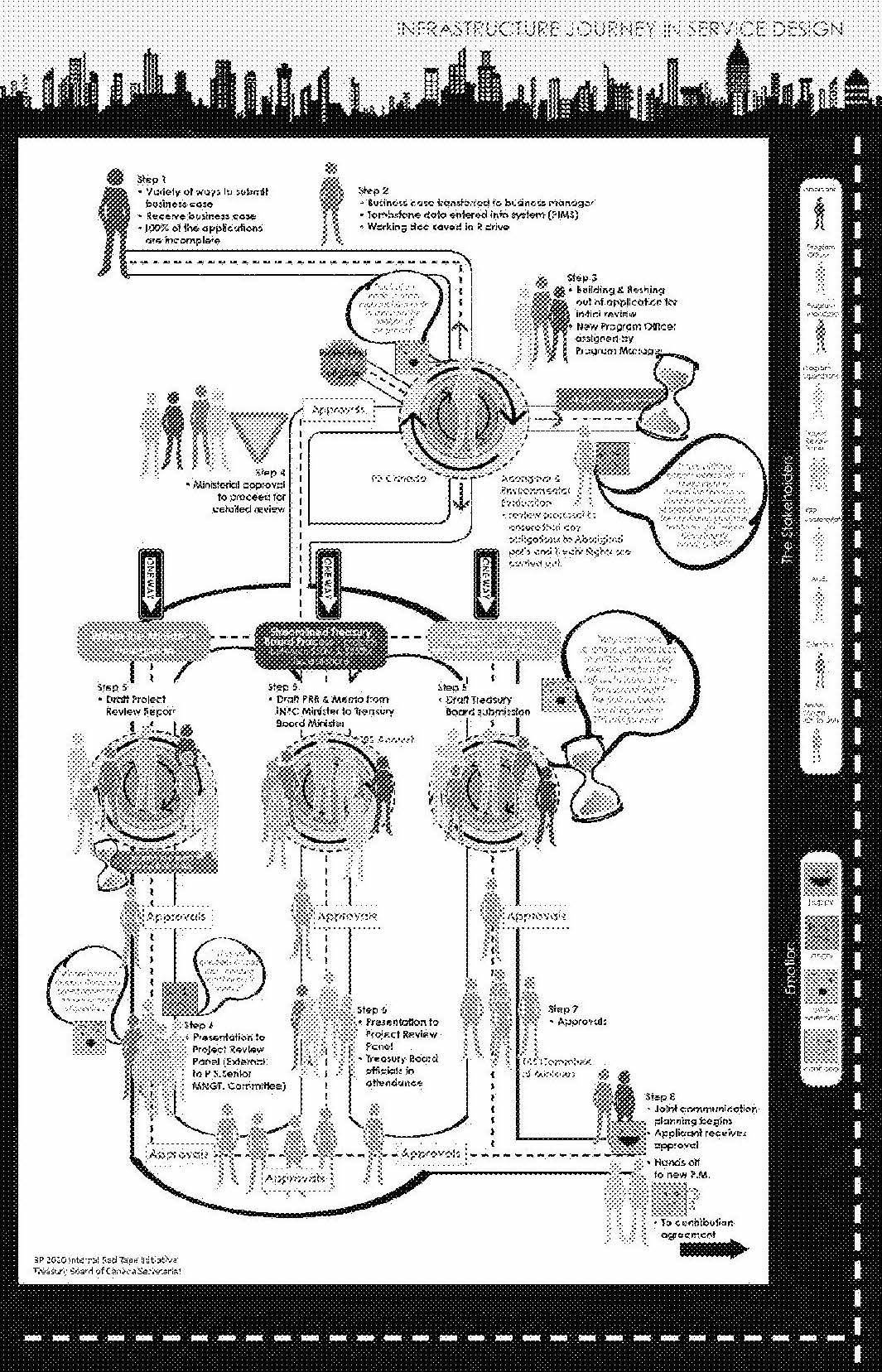 Figure 14 – Program Officer Persona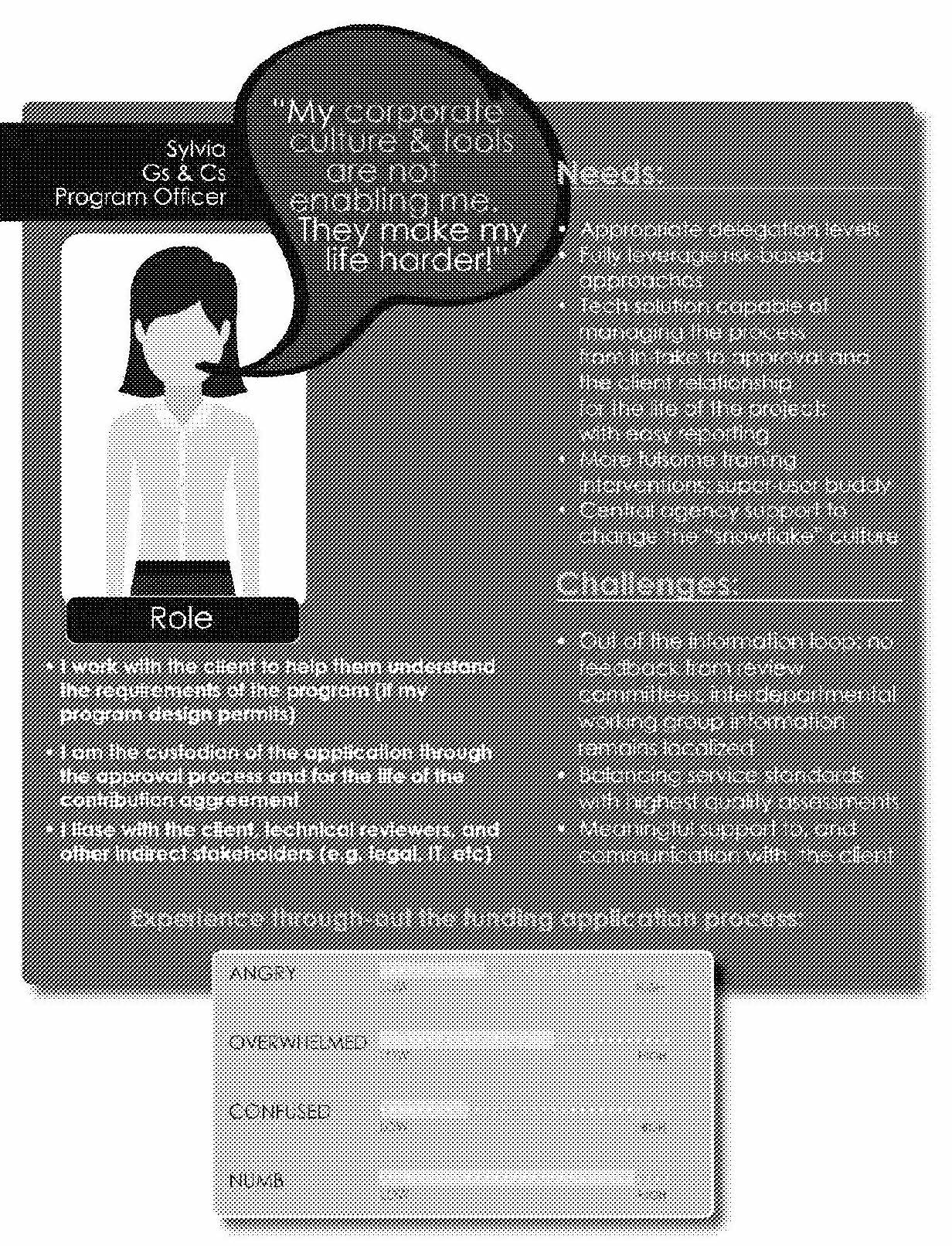 Chapter 4: Achievements and reflections
The work of the Tiger Team is also a story of discovery. The Tiger Team adopted new approaches and new tools to identify problems and design solutions. Through social media and in-person dialogue, as well as surveys, the team journeyed with public servants across the country to unravel internal red tape. At times, the work seemed daunting, as the team had to manage the demand for quick and definitive outcomes when the issues still seemed nebulous and the project deadline was fast approaching. Nevertheless, with support from senior management and public servants, the team was able to stay the course. Along the way, commonly held assumptions were challenged and new insights were gained.
What we achieved
Instead of talking about new and innovative approaches, the Tiger Team adopted design-thinking, an emerging approach, to unravel internal red tape. Rather than engaging public servants through the hierarchies of their organizations, it reached out directly to public servants through GCconnex and in-person meetings. It put public servants at the centre of identifying problems and designing solutions. Thanks to this approach, the team achieved what it set out to do under Destination 2020: 1) to engage public servants, using "a mix of social media and roundtables" to identify the biggest irritants when they have to follow rules and administrative processes; and 2) to work with departments to expose the root causes of and find solutions to some complex red tape problems. Through broad engagement and workshops on three areas, the initiative
Highlights internal service standards and clear communication, in addition to simplifying processes, as critical to organizational success;
Emphasizes the value of designing technological solutions with their intended users, testing the solutions with users before rolling them out across the public service;
Fosters collaboration between "rule followers" and "rule makers" to understand the root causes of red tape irritants and design solutions to address them;
Exposes root causes of red tape irritants common to the three areas examined in the workshops, which could also be applied to other areas; and
Provides participants with new tools to tackle their issues in a learning-by-doing manner.
One of the recurring comments throughout the second phase of the initiative was the acknowledgement of the commonality among the issues each faced and the realization that we need to work together. In the workshops in Phase II, the Tiger Team brought individuals who must follow the administrative rules and processes together with those who enforce them. The research tools applied in the workshops, such as process mapping, stakeholder mapping and personas, helped participants gain an appreciation of the complexity of the administrative processes. In doing so, it became possible for the team to take a holistic look at an issue. Furthermore, as participants became aware of current work in progress, it allowed them to leverage existing initiatives in thinking about solutions.
What we learned
Adopting new approaches to a recurring and complex issue such as internal red tape is a challenge in itself. Emerging concepts, such as design-thinking and innovation labs, are becoming better known among federal communities through workshops by lead thinkers and practitioners, including those from Denmark's Mindlab and the United Kingdom's Behavioural Insights Team and Nesta. Applying these approaches to a specific issue is not easy. In most cases, there is no set formula, necessitating ongoing adjustment along the course of a project. A number of lessons were learned from this undertaking:
First, the power of stories: while internal red tape has been a common cause of complaints, it is through stories that one is able to clearly see the causes and the impact of these irritants. With over 400 stories, the Tiger Team was able to surface common themes and narratives. It reveals the gap between what public servants consider to be the causes of administrative barriers and the current initiatives to improve business processes.

Second, the value of challenging assumptions: when it comes to red tape, cumbersome process, technology (or a lack thereof) and TB policies often come to mind. Yet, service standards and unclear direction are the common irritants. While technology is often considered a cure for cumbersome process, findings from this initiative suggest that, when not designed with the end users in mind, technology is often the cause of – rather than a solution to – red tape. Through the workshops, it has become clear that, while TB policies need to be simplified and consistent, departmental processes and procedures need to leave room for flexibilities.

Third, the challenge of moving from talk to action: a crucial aspect in design-thinking is to move from ideation to prototype and test. The eight-week workshops helped participants define the problem and ideate solutions. Many, though, would like to see the group move to the prototype and test stage. While the Tiger Team has accomplished its mission, it is hoped that departments and agencies will continue to follow the design-thinking principles and carry their ideas into action.
Annex 1: How the project was done
Unravelling red rape with design-thinking
The methodology of the internal red tape reduction project was centred around using design-thinking principles in order to have user experiences to help departments across the federal public service solve red tape issues being encountered in their day-to-day jobs. In recent years, governments around the world have been turning to design-thinking to simplify burdensome processes, prototype solutions and engage public servants and citizens to bring change to large-scale complex systems.
Design-thinking is often applied to issues that are not well defined at the outset. Central to the design-thinking process is developing solutions with, rather than for, end users. While conventional consultations often begin with a well-researched diagnostic, a large part of the design-thinking process is dedicated to understanding the problem from the users' point of view. It starts by identifying the issue along with end users in order to develop solutions collaboratively. It challenges assumptions and the mental models of those involved in the process. Consequently, it often leads to breakthroughs and alternative ways of solving the same problem." While internal red tape was raised during the Blueprint 2020 engagement exercise, the comments were too general to really identify the specific problems. Hence, a design-thinking approach was most appropriate to achieving the objectives of the initiative.
The two phases of the project
The project was broken down into two phases: Phase I – the engagement phase – set out to explore, examine and expose user experiences with red tape; and Phase II focused on examining irritants that were exposed during the first phase and establishing interdepartmental working groups to take a deep dive into the causes of red tape and to co-design better business solutions to those problems.
Broad Engagement
Phase I of the project began in November 2014 and ran for six months, ending in May 2015. During this time, the Tiger Team put together a strong engagement strategy to gather personal red tape stories. To that end, the team employed various methods of engagement, such as leveraging the online community with the use of GC 2.0 tools and conducting workshops, presentations and anonymous surveys.
Explore: The engagement plan was structured using the heartbeat model, which meant that collaboration had to mimic the beat of a heart or a pulse to ensure that conversation was ongoing and lively, both online and in person.
Under the name "Blueprint 2020: Reducing Internal Red Tape Initiative," the team started by first building rapport and trust with public servants on GCconnex. It introduced the team, as well as the project and its approach. The engagement plan for Phase I began with the Tiger Team posting weekly open-ended "Freaky Friday" questions on non-work-related topics that gave the community a platform to actively share something about themselves and build trust within the group. The team then proceeded to invite public servants to share their stories of dealing with administrative rules and processes in their day-to-day jobs.
Meanwhile, the team was conducting outreach via presentations and workshops to various departments and communities of practice to discuss red tape encountered in day-to-day work and encouraged employees to come forward and share their red tape stories, either on GCconnex or by filling out an anonymous online survey. Through user participation in presentations and workshops, the Tiger Team was able to gather stories and build a repository of red tape irritants.
The team used the themes that were emerging from workshops and presentations and fed them back to the GCconnex community, by blogging about the facts that had been presented, and asked the community to share their experiences or points of view. By following this pattern, the team was able to post biogs twice per week, which drew in a very collaborative and engaged audience.
The heartbeat model of engagement therefore resulted in the most active GCconnex group, averaging eight interactions per day (e.g., comments, likes and blog posts in response) and posting 800 comments in total. The end of the engagement phase yielded 2,000 engaged public servants, 400 stories collected through 62 workshops/presentations and 105 anonymous surveys.
Examine: The examine portion of the engagement phase focused on looking at the irritants that were most frequently mentioned and shared across multiple departments. The findings from this phase will ultimately form the basis for the following phase.
The red tape stories from the broad-based consultations were examined by housing the content into MAXQDA, a software used to code qualitative data. The stories were analyzed and coded based on tasks: what public servants reported to be tasks that were difficult to conduct; the barrier(s) preventing them from getting their tasks accomplished; and, lastly, the consequences that emerged from not being able to accomplish the tasks. Those 400 stories were ultimately broken down into twelve different areas, based on the number of times a particular task was mentioned, along with five barriers, also based on the number of mentions.
The qualitative data was aggregated into a graph called "The DNA of Internal Red Tape," which shows the magnitude of how each barrier affects a single task. (See The DNA of Internal Red Tape in Chapter 2.)
Expose: The objective is to expose the root causes of "pain" in order to determine whether it is due to rules, processes or policies. Through GCconnex blog postings, the team was able to share the results of the stories captured with the online community via "The DNA of Red Tape." Both the online community and senior leaders were surprised with the results.
Sharing the results at the national level: a webcast was held at the Canada School of Public Service on April 15, 2015. The Secretary of the Treasury Board presented the Tiger Team's work and results and engaged with public servants across Canada. The webcast included elements of audience interaction, where individuals participating in-house and online were encouraged to fill out a survey asking them to rank a list of tasks given to them. The Tiger Team used the results in deciding where to focus their attention and to take a "deep dive."
Focused Engagement
The end of the engagement phase yielded concrete results and derived a focused area in which a "deep dive" into problem identification could be taken.
Examine: The project team focused on the irritants most frequently mentioned and shared across multiple departments. Working with functional communities, end users traced their "red tape" journey to isolate the "pain points" and envision alternative outcomes.
Staffing
Procurement
Grants and Contributions
Introducing the Design-Thinking Process
A Forum on July 7, 2015 marked the beginning of the Phase. The Tiger Team held a Forum gathering public servants from across the public service. Seventy-two participants from 26 departments and agencies attended the Forum, including policy specialists, rule followers and rule makers. The purpose of the Forum was to bring together representatives from various departments who were currently working on process simplification projects in staffing, procurement and grants and contributions. The analysis of over 170 departmental initiatives under way (See the Departmental Initiatives on Reducing Internal Red Tape in Chapter 2) suggested that many departments were already working on streamlining processes in the three topic areas identified in the webcast: staffing, procurement and grants and contributions. The Forum was an opportunity for participants to learn from one another's experience, share best practices and explore different approaches to problem solving. It helped participants learn about what aspects of topics their colleagues were working on within their respective departments. Participants were then able to connect with colleagues with whom they felt there could be a beneficial connection with their own work.
The core of the day's activities had participants working together to address common challenges. As part of the process, to help participants think more broadly about how to reduce internal red tape, a panel of design practitioners and experts shared their experiences with various parts of the design process, including problem identification, stakeholder mapping and implementation.
Following the panel discussions, participants applied some of the design-thinking tools in small groups through a facilitated exercise on addressing red tape in procurement, staffing and grants and contributions, respectively. In small groups, participants identified issues to be addressed, ideated value propositions, and designed stakeholder engagement plans and strategies for implementation. The user-centred approach, having the client as the dominant voice, was considered an advantage when discussing stakeholders in each of the business cases. There was also a common theme that saw the need for stakeholders from across government departments to work together toward finding solutions. Proposals included empowering the HR advisor to take on a more strategic role by working in partnership with the manager, finding ways to provide flexibility in low dollar value procurement, and standardizing processes within grants and contributions.
The purpose of this exercise was to have participants actively engage with one another and ideate strong value propositions enabling them to think strategically on solving a pain point in order to gain senior management buy-in. All proposals were then presented to a panel of ADMs for feedback. The overall reaction from the ADMs was very positive and candid; they were impressed with the quality of the pitches, which had been developed in such a short time. In these proposals, participants also indicated how the Tiger Team could help them move their respective projects forward by applying the design-thinking approach.
Leading Interdepartmental Workshops
Following the Forum, the Tiger Team assembled three working groups consisting of representatives from departments participating in the Forum, some of whom already attended the event. Each working group took part in an eight-week workshop series led by the Tiger Team to identify root causes and ideate solutions in low dollar value procurement, staffing and internal grants and contributions processes, respectively.
Establish: The workshop series had the twin purpose of exposing the root causes of the pain points, or irritants, identified by public servants in Phase I from a user-centred design perspective, and leveraging streamlining activities already under way in participating departments. Leveraging networks from the Forum, the Tiger Team was able to create three working groups with participants from an array of departments (see Chapter 3 for a list of participating departments and agencies). Each team was comprised of individuals who have experience in service design and access to support from functional experts, as well as related business data and research.
From November to December 2015, the three interdepartmental working groups tackled their respective topics. Although the specific strategy applied worked well for the working groups, the Tiger Team also tailored its approaches to the needs, resources and goals of each specific group. Regardless of the various needs of the groups, each stream consisted of two stages: 1) visioning and scoping; and 2) ideation. Moreover, all of the data gathered from the workshops was validated by other sources, including literary reviews, service audits and user interviews.
The following passages describe the tools used in each stage. For a more detailed explanation of each tool, a link is also provided.
Visioning and scoping
Objectives
The goal was to gain a clear understanding of the nature of the issue being examined and the goals of the project.
Tools
Future backwards
Entails understanding the current status of the project and envisioning its potential destination (both best and worst case scenarios). The end results combine the participants' efforts to scope out the project, identify key indicators that would lead them toward success, and surface some of their own assumptions around the project and its outcomes.
More information on the "Future Backwards" workshop is available at: http://cognitive-edge.com/methods/the-future-backwards/
Process mapping
Once the group envisioned and scoped out the project and brainstormed what success and failure looked like, they started creating a process – or service – map. Essentially, the group's main task was to visualize all of the tasks and touchpoints that a user would encounter while trying to achieve their desired outcome.
Note to reader: This exercise is best accomplished by writing down your ideas on sticky notes and putting them up on a board or a wall. This way, the stickies can be moved around at your leisure.

The design of this exercise generates better results by implementing the "business origami" approach. More information on this approach is available at: https://experience.sap.com/skillup/business-origami/

It uses paper cut-outs for actors, requirements, channels and other actions, which adds more depth and richness to the conversation. It is also important to capture any questions that the group encounters so that they can be added to the user interviews (to be explained in another section).

Completing this activity will yield the first draft of the chosen process or service and a series of interview questions. It is important to note that conducting outside research, such as literary reviews, service audits and user interviews, will refine this output throughout the process.
Process mapping sticky notes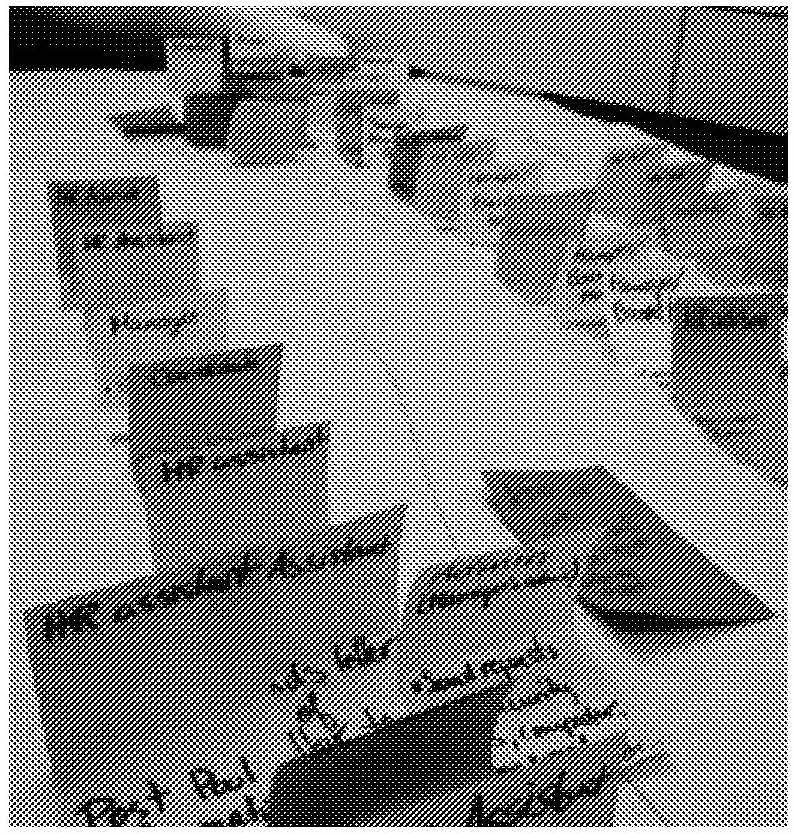 Process mapping refinement

Stakeholder mapping
After gaining an understanding of the process, the objective was then to scope out the current status of the process by identifying all of the players or stakeholders involved in making their system work.
Note to reader: It is important to brainstorm as many direct and indirect players as possible that are relevant to the process. Once each stakeholder has been identified, take the exercise one step further by drawing arrows to show the relationships among the various stakeholders. Once arrows have been drawn to link the various stakeholders, the next step is to identify their respective roles and responsibilities and their supporting infrastructure (e.g., policies, functions, procedures).
Task decomposition
Once the foundation of the process was built, each team proceeded to assign tasks/roles to each step and stakeholder identified in the system.
Note to reader: Starting by fleshing out the context behind the process, the objective of this task is to identify the underlying drivers – or the cause and consequence – for each user within the process. As previously mentioned, conducting outside research will strengthen the results.

In order to accomplish this task, it is useful to draw "influence diagrams." More information regarding these diagrams is available at: http://www.agsm.edu.au/bobm/teaching/SGTM/id.pdf

For this workshop to run, the facilitator will prompt the group to identify the corresponding driver of cause (e.g., a policy requirement, an institutional procedure or a known best practice) and the potential results, including known challenges of each resulting task. Lastly, participants must rate the likelihood of the results and measure the impacts on the users.

It is recommended that this workshop be split into two sessions because there is a lot of content to flesh out. Therefore, the first workshop focuses on the drivers and the following workshop tackles the results. Once enough content is collected to illustrate the accompanying drivers and associated challenges, it will be time to begin analyzing some of their impacts. This analysis will lead us to the next workshop, which deals with root cause analysis.
Root cause analysis
Following the task decomposition, participants in the staffing stream moved on to identify the root causes of each of the challenges found within the most painful tasks/steps. The objective was to uncover the causes of each of the major challenges that were previously identified.
Note to reader: The exercise should focus on the most likely and the most impactful challenges in the user's experience. Note that these may change after the user interviews and that the step may have to be revisited.

For this workshop, the use of the "five whys" exercise is recommended. Over the course of five rounds, the facilitator prompts the group to identify the likely cause of each of the listed challenges. Causes can be structural, functional, organizational and/or cultural.

If, at any point, the working group cannot answer why this item has been identified as a cause, mark it down as a user interview question. The facilitator should push the participants to clarify their assumptions and relate their analysis with other research sources. At the end of this step, the group should have a list of potential root causes corresponding to the major challenges that were identified, and have drafted a series of user interview questions through this compiled data.

More information on the "five whys" method is available at: https://www.isixsigma.com/tools-templates/cause-effect/determine-root-cause-5-whys/
User interviews
All groups conducted interviews with users. The objective was to capture the overall experience that users have had with the associated process and the elements surrounding the ongoing research. Working with the project sponsor, each group identified users who had a varying range of familiarity with the process or service within its scope. In preparation for the interviews, each group created a user interview guide by reviewing all the questions that surfaced from all the previous steps.
Note to reader: It is important to build a question narrative that flows well, cycling from "What?" to "Why?" to "How?" Having a copy of the research artifacts (process map, stakeholder map and root cause analysis) on hand for reference is useful for note-taking.
Journey mapping
Some groups also used a "journey mapping" workshop to capture the user's experience.
Note to reader: The main difference between this mapping technique and interview questions is that the former captures the user's experience in a visual way. It uses the initial process map to plot out the specific steps in the journey and requires the interviewer to prompt the user to convey the different emotions that users can feel during each step of the established process. This way, one can identify how each user feels along the way. It shows the interviewers what steps in a process are required, redundant or complex, and allows those analyzing the business process to determine where effective change could be made. More information on the "user interview guide" and "journey mapping" are available at: http://diytoolkit.org/tools/interview-guide-2/ and http://uxmastery.com/how-to-create-a-customer-journey-map/
Ideation
Based on an understanding of the process, stakeholders, root causes and users, the goal was to design solutions to improve the process in question. This was done by analyzing interview results, building personas and exploring options.
Tools
Interview analysis
The group reviewed all the data from the interviews and/or journey mapping exercises and conducted an analysis to extract potential insights with a view to refining their existing research.
Note to reader: An easy way for the group to sift through a large amount of data is by using an affinity mapping exercise. In order to do this, participants will write all the answers from the interviews on sticky notes and sort them by overarching themes. Each sorted pile should be identified by a specific challenge or experience that was then cross-referenced with the original challenges uncovered.

The group should end up with a defined list of experiences, known challenges and user insights. All of these will add to the overall context and help in the subsequent research. More information on "affinity mapping" can be found here: http://asq.org/learn-about-quality/idea-creation-tools/overview/affinity.html
Personas
Some of the working groups developed solutions with the help of a persona.
Note to reader: Personas are research-based descriptions of users. They are crafted based on the interviews that were conducted earlier. Each persona should capture the various needs, responsibilities and levels of comfort with the process and known challenges.

In this session, the facilitator leads the participants to design personas. Typically, there should be a minimum of two personas (one less experienced, and another more experienced} to reflect the range of interview findings. Each design will require the group to surface and identify the user needs, challenges and levels of comfort resulting from the findings, for each persona.

You can find more information on "Personas" here: http://www.uxbooth.com/articles/creating-personas/
In addition, two groups (LDV procurement and staffing) applied the following tools to explore solutions types:
Six hats
The group on LDV procurement applied this tool to think through various perspectives. The objective was to take one topic and look at it from six different perspectives. This steered the group toward a structured and objective conversation.
Innovation flow chart
With the help of personas, the group on staffing completed an "innovation flowchart" exercise. This tool helped participants unpack the necessary factors for success before fleshing out a plan of action.
Note to reader: In the last step of activity, the group must generate ideas and explore solution types for the most impactful challenges. From there, the next step is unpacking the risks, user needs and success factors with the help of the personas created earlier in the process. To this end, the group will start generating new ideas to change or improve the user experience. A few workshop designs could help in this regard. The "Six hats" exercise will motivate the group to think through various perspectives. Once several strong ideas have been generated to work with, it is suggested that an "innovation flowchart" exercise be completed. With the help of the personas, the facilitator can walk the group through the challenging task of unpacking the necessary factors for success, and start fleshing out a plan of action.

At the end of this step, the group should have a list of potential solution types that could improve the user's experience, and some associated actions. It is important to note that designing and implementing new solutions can be an arduous task. It will require a separate and distinct process, which might include some additional research, user testing and resources.

More information on the "six hats" and "innovation flowchart" can be found here: http://diytoolkit.org/tools/thinking-hats-2/ and http://diytoolkit.org/tools/innovation-flowchart-2/
Tiger Team members and workshop participants
Phase I Tiger Team
Jean Kunz – Director
Sage Cram – User-centered Design Specialist
Blaise Hebert – Engagement & Facilitation Specialist
Stacey lleleji – Senior Analyst
Kris Nanda – Senior Policy Advisor
Neetesha Patel – Junior Analyst
Lori Steele – Graphic Designer
Phase II Tiger Team
Anne Casault – Senior Director
Sage Cram – Lead Facilitator – Low Dollar Value Procurement stream
Muna Idris – Senior Analyst – Low Dollar Value Procurement stream
Blaise Hebert – Lead Facilitator – Staffing stream
Luisa Wang – Senior Analyst – Staffing stream
Joel Bourgeoys – Co-facilitator – Staffing stream
Stacey Ileleji – Lead Facilitator – Grants and Contributions stream
Neetesha Patel – Co-facilitator – Grants and Contributions stream
Denise Wild – Senior Analyst – Grants and Contributions stream
Lori Steele – Graphic Designer
Marie Blythe-Hallman – Senior Advisor and Lead Writer
Webcast Moderator and Todd-Cast Sessions
Interdepartmental Working Group participants
Staffing
Immigration, Refugees and Citizenship Canada

Farahldine Boisclair
Sylvain Decotret
Tandice Wiwchar
Paul Laflamme

Public Services and Procurement Canada
Natural Resources Canada

Lynn Millross
Christine Tanious
Marie-Christine Brochu

Fisheries and Oceans Canada

Francine Seguin
Matthew Pringle

Public Service Commission
Treasury Board Secretariat
Low Dollar Value Procurement
Agriculture and Agri-Food Canada

Lorraine Burnett
Parker Kennedy

Fisheries and Oceans Canada
Department of National Defence

Michelle Grant
Yves Joanisse

Infrastructure Canada

Lise Marquise
Erin Massey

Transport Canada

Adriana Mastrostefano
Robin Ambrose

Public Services and Procurement Canada
Treasury Board Secretariat
Grants and Contributions
Agriculture and Agri-Food Canada
Immigration, Refugees and Citizenship Canada
Fisheries and Oceans Canada

Richard Norenna
Pauline Scharfe

Infrastructure Canada
Canadian Heritage

Sean Sheehan
Denis Laforest

Treasury Board Secretariat
Annex 2: Snapshots of internal red tape stories
Snapshot of your Internal Red Tape Stories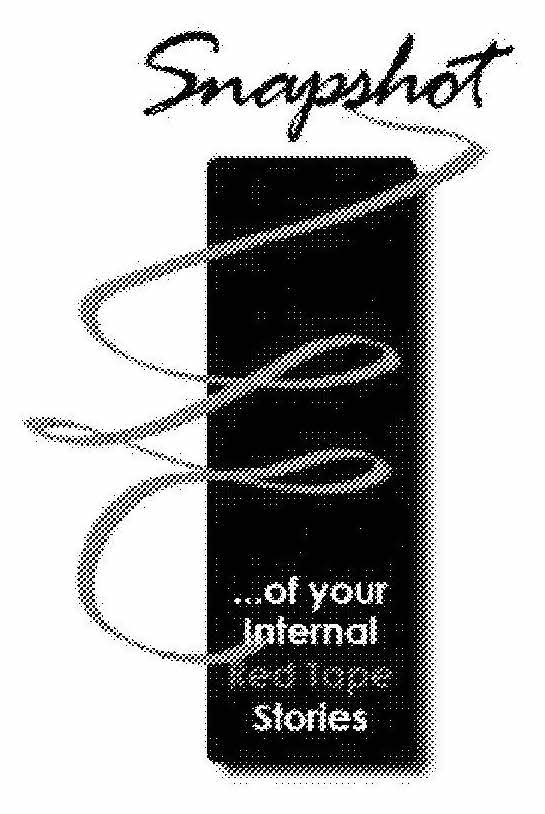 Snapshot: Getting IT help
Requesting IT support is a task that most employees undertake from time to time. Employees' stories about getting IT help range from relatively straightforward requests, such as setting up a dual monitor, to those that are more complex, like obtaining access to a closed network.
Two central themes emerge from these stories: the challenges inherent in transitioning from locally-based to centralized services, and the ambiguity around roles and responsibilities that sometimes results from these transitions. The following comments express the views broadly shared throughout these stories about obtaining IT support:
"We have swung in the direction of centralization at a huge cost to our clients in terms of time and productivity."
"We have added one more layer to answering service requests on behalf of our clients."
"There is complete confusion around when to call the IT helpline, when to put in a ticket, when it can be done by the employee and when it has to be done by the manager."
"We no longer know what our local IT does… I am not at all sure the ticket process is clear to them either… They don't seem to be aware of what ticket is theirs and what ticket is Shared Services'."
Notwithstanding the goal of streamlining IT services under the umbrella of Shared Services Canada, these stories illustrate that the new system is not without difficulties. Perspectives from clients and IT Helpdesk technicians capture issues from both sides of the service desk, including increases in wait times, inadequate communication between IT support and clients, and lack of flexibility in problem-solving.
Feedback from IT Helpdesk technicians highlights the lag time on the ground between the need for IT support and fulfillment of the request:
"… we currently have to tell clients – who we are standing right in front of – that we cannot help them until they call the National IT Service Desk and get a ticket number."
"… now they have to go through a lengthy process and wait period, sometimes for days, just to get the same support they used to get in minutes."
For a client trying to access IT support, the process can seem like
"throwing a pebble into a black hole… It is only after repeated inquiry emails and telephone calls that we receive a response."
While waiting for IT support, the client's work often rests in limbo:
"If your computer is down and it is next to impossible to do your job without it, yet there is no response from the service desk… sometimes for days, and then the repair may take weeks…"
At times, the absence of communication between IT support and the client can feel like the service call is about the ticket rather than the service:
"I needed a file restored. The IT person working on it kept stating that it was restored and closing the ticket, and I had to keep calling Helpdesk and saying 'it's not restored, the job is not complete, please reopen the ticket.'"
At other times, the lack of communication seems like a game of "telephone," where the initial message gets lost in the transmission:
"The whole process is so impersonal; quite often communication misfires and no one knows what is going on."
This client's experience trying to obtain access to a closed computer system illustrates how things can go wrong:
"…I put in my request through the IT Service Desk. The original request was for two computers and a printer. The request came back as one computer. When I challenged this, I was told that I had to go back to my Service Desk and put in a new request."
The challenges of a centralized IT help desk are felt acutely by employees in the regions. Physical distance underscores delays between central and regional IT staff and the loss of local deskside support. These two stories reflect the kinds of experiences shared by GoC staff in the regions:
"It took approximately 3 months, 9 help desk tickets and 7 individuals (in Ottawa, Winnipeg, Vancouver and Edmonton) to get me the network shared drives, software and account login information that I required to do my job on a 4-month assignment in the same Branch…"
"We have a program on our computers that faxes out authorizations. … Our local IT are one floor above us and they have a server for this program, and when it goes down, all it needs is to have the server reset. But we have to call helpdesk in Ottawa, who then contacts a Shared Services person in [our region] to reset this server."
Some respondents' stories highlight solutions for making the current model work for them. Some seek ways to work around the system, such as contacting the local IT help directly:
"In the past, I used to open tickets for every single reset I needed. After a while, I asked my IT contact to accept a recurring Outlook appointment to proactively reset our server weekly."
Others propose putting in place service standards for wait times:
"Knowing how long it will take for an IT issue to be resolved would be a step in the right direction."
Still others propose a revamped IT service delivery model – a halfway house between the former and current models which brings back deskside support, leverages local knowledge and, when dealing with urgent matters, gives clients access to
"Fast, mobile deskside service with tons of local knowledge and a centralized system for less urgent or infrastructure work… the local knowledge is there and it is faster and easier."
As this respondent notes, while centralization is a valuable tool for streamlining service delivery, ensuring that the client remains at the centre of the service experience is fundamental:
"Centralizing some systems – email, infrastructure backups, Office products – is good, but this doesn't mean it is good for everything. Sometimes being right there to communicate directly with a client and understand what they need is key."
Snapshot: The trouble with travel
Feedback highlights the lengthy internal approval process chain required before travel can be authorized and booked, moving from the manager up to the ADM:
"…the approval process required over 8 signatures to spend $200 for two people to travel to Ottawa for an interdepartmental meeting."
In some instances, the approvals seemed to sit in the office of senior management (ADM or DM) for so long that it either became too late to book the travel or that the early bird rates for tickets and events were missed:
"In many cases, approval is granted 2-3 days before the departure date, in which case the flights are now almost double the cost that they would have been 2-3 weeks prior to the required travel date."
Feedback on the Shared Travel System (STS) pinpoints irritants in each part of the process of making travel arrangements for Government of Canada business, from securing approvals to making bookings and submitting travel claims. Concerns focus on the negative impacts and extra costs associated with the new system. The following comments express the views shared widely by those who told their stories:
"The whole travel system is counter-intuitive, frustrating, time-consuming and demoralizing."
"I spent more time doing the logistics than actually travelling."
When making a booking, participants note the lack of flexibility in the STS portal, indirect routing and increased costs:
"…the HRG website doesn't show all flight options and doesn't take into account the inconvenience to the travelling member, the meandering routes, overnights and backtracking."
"The recommended route for a trip from Ottawa to Germany was Ottawa-Washington (overnight)­ Newark, NJ (overnight)-Germany."
"A booking for the Eurotrain from London-Paris return was quoted at 600.00 Euros while the rate from the Eurotrain website was approximately 100.00 Euros."
Many STS users find themselves going online to search for cheaper or more direct travel options:
"…there is no trust in the services and quotes being provided, and individual work time is invested in searching plane, train and auto rental websites to ensure the lowest fares are obtained."
When clients require assistance at critical points in the process, feedback underscores the absence of clear guidance from the service provider and, especially, the length of time spent on a call:
"The greatest dissatisfier is the time it takes (on the phone) to make the simplest booking. The online booking agent had no familiarity with the area I was travelling to. It took more than 2.5 hours."
Moreover, clients report being charged a fee for contacting the service provider for assistance:
"Support is not only slow but apparently fee-based. Why are we charged to manage issues with a product that doesn't work properly?"
Filing travel claims is an equally cumbersome process of
"filling out, scanning, uploading and monitoring travel claims."
This process easily becomes amplified when undertaken for a large event with several participants.
Feedback further focuses on the portal itself, highlighting in particular the absence of a user-focused design and inadequate training. For many, navigating the system is a time-consuming and burdensome process. When employees experience difficulties, they either find themselves starting the process all over again, or asking others for help:
"The software system was very poorly designed, has bugs, and is a drain on resources, trying to find workarounds, trying to find answers from the service provider, seeking help internally from other employees when other avenues fail… Admin staff are given minimal training online, but no real-time training. Other staff are expected to learn the process on their own…"
Many stories factor in the time lost navigating the portal:
"…there was 4.7 hours lost waiting/lag time for one request."
Others document the financial costs:
"…the Department spent around $97.00 on salaries to deal with a $149.00 expense claim."
Most, however, underscore the less tangible costs, like employee dissatisfaction:
"…employees feel cheated out of their professional time and expertise by an administrative process."
While technology-based solutions are encouraged as a way of engaging employees more broadly across the public service, they are not without their own challenges, chief among them being access to the technology – i.e., firewalls, bandwidth – or even a working system. In some cases, technology simply cannot stand in for face-to-face interactions:
"While video and web-based conferencing were viewed as a way of keeping things moving forward, these tools were often unreliable and did not generate the same results in terms of making progress on key files."
In the worst-case scenario, employees opt out of even the necessary travel, which, as this respondent notes, is also a missed opportunity:
"I am missing opportunities to attend workshops and conferences but, more importantly, to liaise with colleagues."
The stories provide plenty of feedback about how to improve the travel system, from streamlining the approval process to providing more training and support:
"Reduce the number of approvals needed. Have faith in the managers to make the right assessment of the necessary travel."
"Allow automatic acceptance of travel items below a certain dollar value. Filling out a solemn declaration for a $3 bus ticket is not a good use of resources."
Most, however, focus on improving the portal itself:
"Improve the website to make booking a reality online with realistic timelines as well as minimize the necessity to call a CSR [Customer Service Representative] every time."
"Make the software architecture simple to use and the terminology plain language."
"Provide on-screen buttons to 'go back' and 'delete.'"
"Be upfront about password requirements. Most websites are upfront about what your password must contain."
"When preparing an expense report, the expenses should not have to be repeated. There should be a drop-down menu in the travel request where amendments could be made."
"Deleting a travel request, with or without an itinerary, should be simpler."
"Add more bandwidth. The lag time for data entry is a big deal."
While implementing these recommendations would go a long way toward improving the service experience of travel system users, in order for the travel system to work for them, they ultimately need to be actively engaged in designing the service. Holding focus groups to allow employees, managers and select power users to share their feedback would be a first step toward doing so.
Snapshot: Evaluating performance
In 2014, the federal government introduced an enterprise-wide performance management program to clarify expectations for public servants in executing their job functions. Feedback on the new program from those who shared their stories has been wide-ranging.
For some, the adoption of the new program has been a positive experience:
"The introduction of the new PMA [Performance Management Assessment] program has been wonderful for our team. It brought us together to determine what our values and service delivery standards should be to allow us to serve clients better. We built our PMAs over a 2-month period and I engaged with staff and clients on what they expected from our unit. We transferred that into measurable deliverables, which has empowered us to be fully accountable."
Others suggest that it is still too early to draw any conclusions about the new program:
"The system is still in its early stages, still new. Both supervisors and employees are exploring it and testing it out… It's still early to make a definitive assessment or evaluate a process being rolled out."
However, many of the stories identify irritants throughout the performance evaluation process, from setting up and maintaining an employee's Performance Management Agreement (PMA), to the online system for documenting performance. These irritants have also had a notable impact on staff morale.
Some employees identify issues around setting SMART (specific, measurable, attainable, relevant, trackable/time-bound) work objectives, especially those that can be achieved, tracked and measured over the duration of the employee's PMA:
"My greatest challenge was getting SMART objectives that are within my ability to achieve. Once objectives were established, I found it challenging to determine how they would be tracked and demonstrated, which I felt really should have been the basis of the objectives."
Others point to the challenges that can arise when deploying to a new position and taking on the previous employee's objectives:
"It is demoralizing when you assume an objective from an employee who has moved to another position, and it is difficult/or you to deliver on it (in my case it was already overdue), but this is not always clear to management if the status of files/objectives are not regularly reviewed as part of an exit procedure… I guess I could have camped outside the office of the person I needed to connect with or phoned every hour…"
The majority of feedback, however, focuses on the rating grid. These stories highlight inconsistencies around the application of the rating grid, and it is in this area in particular where the blow to staff morale is felt most acutely:
"My experience with the rating system as an employee and as a manager has not been a morale booster."
Some note being told that each member of their team would receive the same rating of "3":
"We were advised that no one will receive an "exceeds expectations" mark and no one will get a low mark. We are all being given the same mark, as no one either wants to or has time to "talent manage" or "performance manage" people. So if you work hard all year, you get the same score as that person who texts all day long. And that score follows you from now on."
Others indicate that a bell curve was used:
"Employees were being curved within our unit and not assessed according to the rating grid provided by TBS. The bell curve was used to avoid scrutiny of too many people in one rating versus another. Some employees will continue to perform regardless, since what matters most is their sense of accomplishment, others are only going to do what attracts management attention, and others have decided not to bother anymore."
Some employees were simply unable to obtain an evaluation, either because they changed jobs or because their manager left during the year:
"Ideally, my current manager would have tried to see if he could get feedback from my previous bosses in order to provide me with some sort of assessment. Realistically, most managers don't have time for that."
Respondents further highlight issues around the Public Service Performance Management (PSPM) Application, the portal for completing online performance agreements. Feedback paints a picture of an inflexible and time-consuming data entry system, from the initial process for claiming an employee, to the data entry throughout. This is especially taxing for managers who have a number of employees with similar PMAs:
"The process has unnecessary back-and-forth confirmation steps that drag a simple procedure into an hours-long ordeal."
"Most of my team have similar components, but for each one I had to re-enter or cut and paste the data. I had to do this input 11 times. It took approximately 3.6 hours."
"This is the most tedious and exhausting part of performance management. This isn't just my experience. This is the case for every manager in the public service."
Moreover, the timeframe for completing PMAs, which coincides with fiscal year-end, is a major irritant for many public servants:
"Completion of PMAs always lines up with year-end deliverables, which makes it difficult for both the employee and the manager to really dedicate the time this important exercise warrants."
More broadly, however, the stories raise important questions about how the new performance management program addresses issues around organizational effectiveness, like "process" and "culture," which impact job performance:
"What happens to those high-performing, seriously dedicated employees who experience operating cultures that interfere with getting results? Are those employees always going to be in the land of the 'threes'?"
"The problem is not in identifying the right solutions, but in identifying the right problems. Improving performance results is not just about training and behaviour; it is also about effective processes and the right tools."
These stories further suggest that issues around evaluating performance also lie in identifying and training managers with competencies in people management. Feedback underscores the importance of people management skills and the need for tools to support managers, especially those with employees whose performance lies at either end of the spectrum – the "outstanding performers" and the "poor performers":
"It isn't necessarily the system that was or is wrong or ineffective – there are always comment boxes to add information that may not fit elsewhere in the system – but rather the training that managers and supervisors receive on how to engage in healthy conversations with employees, how to motivate poor performers and how to work with the outstanding performers."
The stories propose a broad range of solutions for addressing issues, from refining the portal based on client feedback to providing more and better training on the performance management program. Feedback overwhelmingly urges that the portal be revised as soon as possible to allow managers to duplicate PMAs and adjust them as necessary:
"Amend the system so that I am able to enter the data once and duplicate it for the number of employees that have the same PMA foundation. In the learning plan sections, I can then tailor the data to the needs of the employee."
"If we moved to a system where we could replicate the data, it is logical to believe there would be cost savings. It would also free up managers to do their job within the hours of a normal work day."
Employees recommend changes to the performance management program that would introduce a "check" on the rating system:
"There should be more than one person rating an employee's performance per assessment cycle, and that part of the assessment should be linked to a specific set of work functions."
Feedback further urges targeted training on the performance management program in two key areas: how to write work competencies, and how to apply the rating system:
"Better training/review support for those devising objectives, and for recognizing the importance of accrediting skills and competencies and the role that leadership can play in achieving organizational goals, rather than simply evaluating if core objectives are met."
"With this kind of performance rating system, there is a need for more robust training for employees and managers."
More fundamentally, however, the stories urge more support for managers in executing their people management functions:
"Good managers were having ongoing performance discussions already. The problem is not that we lack a centralized system for doing this… it is to train people to be managers."
Snapshot: Changing departments
Moving to a new department or agency is something that most federal public servants will do during their careers. In 2011-2012, more than 20,000 federal public servants changed departments and, on average, it took 59 days for their records to be transferred between departments.
Therefore, it is not surprising that, in their red tape stories, public servants identify key irritants in the process of changing departments on a temporary or permanent basis. While several steps are involved in moving to a new department or agency – from obtaining a new security clearance to transferring an employee's pay file and everything in between – many public servants simply do not know what they need to do, or where to begin:
"The issue is really around the lack of information available during the onboarding/transfer process. Each group does its thing – HR, Compensation, Security, IT, IM Credentials, and so on. But you are lucky if you get someone to guide you through the whole onboarding and transfer in/out process."
Public servants report inconsistencies when transferring their security clearance to a new department or agency. The transfer is a smooth one for some, while others report having to undergo security checks despite holding a valid security clearance, even when the new position requires the same or a lower level of security:
"I hold a Secret-level security clearance, a status that I have held for several years. In my new position, I was asked to do a reliability clearance. It took three weeks to be processed."
Many public servants do not know what to do with their myKEY when they change departments. Sometimes, their myKEY is deactivated upon leaving their home department; at other times, employees continue to use their existing myKEY:
"My myKEY was cancelled or deactivated by the department I left."
"I have worked in seven different departments and I have always just used the same myKEY."
Some employees log hours, days or weeks trying to obtain access to their myKEY once they move to their new department:
"The actual myKEY transfer feels like IT limbo! The amount of time I spend explaining on the phone, sending emails is just mindboggling."
For those who experience delays in accessing their myKEY, they report not being able to access other key personal information until their myKEY issue is resolved:
"Since my myKEY was not transferred, I can't access the Pay and Benefits Web Applications; I can't transfer my PMA to my new workplace and input new objectives; I can't VPN in from home; I can't change my contact info in GEDS 2.0."
Employees on secondment highlight the particular challenges of moving to a new department or agency:
"Coming in as an interchange seems to add extra complexity, as you both are and are not part of the new department."
This becomes evident when trying to access their PeopleSoft account while on secondment:
"I am not able to access my Peop/eSoft account from my host department, which means I have to submit leave in paper format to my home department. I tried to register my PR/, but the system did not recognize it. My pay is still administered by my home department, so I guess the account resides with them…"
Employees report inconsistencies upon arrival at the new department or agency. Where one employee may be set up and ready to go from day one:
"When I joined my new department, our wonderful administrator had a computer and phone set up to my name, and my email was ready to go. I even had basic supplies and a notebook!"
"My new employers were, however, right on the ball with making sure my oath was completed on my first day."
In other cases, new employees lack even the essentials and, often, there is no orientation session for new transfers:
"…I was without a computer on my desk for over a week, and once it did show up it took a few more weeks to have my account initialized.
"…the essentials are done fairly well, but everything else about departmental integration – not so much."
In their red tape stories, public servants share some insights into how to improve the experience for employees moving to a new department or agency.
Some call for a consistent process across government:
"If the public service is to encourage mobility… the processes should be smooth… or at least centralized."
Others suggest the creation of guides or checklists to steer all those involved through the onboarding process:
"A guide for transferring between departments would be a good start. We have guides for new employees and for retiring. Changing departments is more frequent."
"A transfer checklist of tasks required by each of the parties – employee, home and host manager."
Other recommendations focus on specific aspects of the process. Minimize the opportunity for error or delay by transferring an employee's security clearance in a manner similar to their personnel files:
"Security clearances should be transferred like the rest of your personnel files."
"The security clearance should be retained in PeopleSoft and automatically carried forward with the employee."
Amend the PeopleSoft account to accommodate employees who are on secondment:
"Like in myKEY, provide a link in PeopleSoft to add host information."
Above all else, however, reaching out to public servants who engage in the transfer process on a regular basis – employees, admin staff, managers and functional specialists – is essential to ensuring that the appropriate solutions are put in place.
Snapshot: Security clearance screening
Security screening is a task that virtually every individual has to complete, whether moving internally, joining the public service for the first time, or working as a contractor with the Government. Feedback about security screening surfaced often among employees of varying levels, occupational groups and departments. Although public servants pinpoint irritants in several areas of security screening, the broadly shared view is that any amendments to the process must be balanced by the need to ensure that risks are managed appropriately:
"I like the idea of cutting red tape, but these are areas where the red tape actually is the value added. The extra steps and verifications are the service."
While still early, the introduction of a new security screening standard (October 2014) and new measures for electronic fingerprinting (July 2014) seek to address some of the issues identified by public servants in their security screening stories.
A key irritant identified by public servants is the inconsistency across departments and agencies around the transfer process when changing jobs. Many public servants report not having any issues transferring their security clearance to a new department or agency:
"I've never had a problem bringing my clearance with me from one department to the next."
"I have Secret in my substantive and I am currently on an assignment that does not require that level. There was no cancellation or adjustment."
Others report having to undergo security checks despite holding a valid security clearance; in each case, the position the employee was being screened for was the same or a lower level of security as their current status:
"I hold a Secret-level security clearance, a status that I have held for several years. In my new position, I was asked to do a reliability clearance. It took three weeks to be processed."
"…when I transferred from one location within the same department to another, I had to relinquish my pass and be formally escorted off the premises. When I headed to Security at the new location, I learned that they were affiliated with the office I had just transferred from, and they would print up and deliver my new pass. When I received it the following week, it was the SAME as my old pass/photo, yet my original had been destroyed."
While the new security screening standard seeks to enable the transfer of an employee's security clearance at par, delays, and what may seem like inconsistencies in practice from one department or agency to another, can still occur, as the receiving department has the right to request a security check under certain circumstances.
Moreover, mistakes can still happen. As this public servant notes,
"the transfer process is only as good as the person both making and receiving the request."
Unless appropriate checks are in place, mistakes may even go undetected for years and take months to undo, causing unnecessary delays for all involved – managers, employees and advisors:
"After over 15 years with a secret clearance and having moved departments several times, I started a position at a new department. Each time the transition went smoothly, until I left the last department to start in my current position. When my current department contacted the former one to verify my security clearance, we learned that the paperwork had never actually been transferred, and had been destroyed as part of normal disposition practices. While my secret clearance remained, it was not portable without the paperwork. So I found myself having to redo a complete security clearance."
Feedback further suggests that the opportunity for error or delay in the transfer process could be minimized if an employee's security clearance was handled in a manner similar to their personnel files:
"Security clearances should be transferred like the rest of your personnel files."
"The security clearance should be retained in PeopleSoft and automatically carried forward with the employee."
Many public servants highlight the length of time it takes to receive a new security clearance. While the new security standard directs departments and agencies to adopt service excellence practices such as service standards, feedback pinpoints aspects of the process where there is still room for improvement.
For some, delays are encountered as a result of travelling or living abroad:
"I have had issues with an employee waiting for a security clearance. It took eight months."
Some note that the delays are not necessarily the result of red tape, but due to the realities of having living abroad, like obtaining the necessary documents from authorities outside of Canada:
"The difficulty for those who have lived abroad is obtaining the appropriate documentation from the country where they lived."
However, as feedback suggests, seemingly intractable issues like this could be given further consideration:
"The reality is that many people travel abroad. Why haven't we found a more efficient way to verify security information in these cases?"
Possible solutions, such as providing check boxes on the form for applicants to indicate whether they lived or worked abroad on business, government or otherwise, could be considered.
Security screening stories further indicate that the process of applying for a security clearance for contractors in rural or remote areas can be cumbersome. As this story suggests, while the demand for contractors is high, contractors simply move on rather than wait for the process to unfold:
"The onus is on the contractor to follow through on the process, and in the fields where demand is high, contractors leave rather than complete the security clearance process. It makes it extremely difficult to find contractors a/together. "
In many of the stories, filling in the form is a key irritant, especially the inability to save the fillable PDF form:
"You cannot save the form with any personal information. You are allowed to 'fill and print' the form, but once you close it you cannot go back and 'edit' the form without having to retype everything."
"Why can't we make the determination or the judgement call ourselves about saving versus not saving our own information? If the concern is around privacy and security, why not make these files 'encryptable'?"
Public servants also express frustration around sign-in requirements when visiting OGD buildings. Some point to the time delays that can result:
"The time and energy spent going through security and waiting to get a temporary pass to attend an interdepartmental meeting. This holds up the start time for the meeting, or means employees miss part of the meeting."
Others note the inconsistencies in these procedures from one department or agency to another:
"Some departments only require you to show your ID, whereas others require you to sign in and be escorted. This is often a problem for regional staff who have to be signed in or get a special pass when they visit their NHQ in NCR."
Many, however, highlight the perceived barrier to accessing OGDs:
"If I am a GoC employee and my secret security clearance is good at my home department, isn't it good enough to allow me to go through the commissionaire's desk at an OGD without having to leave my ID and be escorted?"
"This can lead employees, especially those from regional offices, to feel alienated."
In many stories, public servants raise questions about streamlining and centralizing the security screening assessment processes and tools:
"Why don't we have a centralized security clearance process so that the person can move freely from one department to another without the worry of verifying their security clearance? After all, we all work for the federal government."
Some suggest a universal Government ID card, much like that in place at IBM:
"At IBM, staff are easily able to swipe in and enter IBM offices in the foreign country they are visiting­ couldn't we just do the same thing for the federal government?"
Notwithstanding the need to ensure a security screening service that safeguards federal assets, feedback suggests that some of the irritants identified in these stories could be addressed through improved communication.
Feedback highlights the importance of a community of practice among DSOs (Departmental Security Officers) to troubleshoot issues and share best practices:
"…a forum for DSOs where they can collaborate and discuss these issues."
More fundamentally, however, respondents underscore the importance of providing the service user with clear guidance throughout the security screening process:
"Give clear instructions to prospective employees about how to fill out their security screening forms and offer help if required. Lots of delays are about human error, skipped sections, gaps, forgotten signatures and the like."
"Demystify the personnel screening consent and authorization form and provide an understanding of the screening process in general, including what happens to the personal information that you provide."
Clear communication – giving clear instruction, explaining why things need to be done a certain way, providing a sense of time frames, and the offer of help – would be a first step toward improving the security screening process for prospective employees and public servants alike.
Snapshot: Navigating myKEY
Federal public servants must obtain a myKEY, the Internal Credential Management (ICM) identity-based credential, from Shared Services Canada (SSC). A myKEY is necessary to access certain types of GoC online applications, including Compensation Web Applications (CWA), GC Secure Remote Access (GCSRA), the MAF Portal, and Performance Management Agreements. As more government-wide initiatives are launched, employees will use their myKEY to access these new programs and applications.
In employees' myKEY stories, challenges occur when employees move to a new job within the federal government, either permanently or on secondment. As the myKEY stories show, there is no single, clear understanding about what should be done with their myKEY, and by whom, when employees change jobs. Sometimes their myKEY is deactivated upon leaving their home department:
"My myKEY was cancelled or deactivated by the department I left."
"I had to revoke the myKEY from my previous department and then have it recovered by my current workplace."
At other times, employees simply continue to use their existing myKEY:
"I changed departments, plugged in my USB stick with myKEY on it and things worked out."
"I have worked in seven different departments and I have always just used the same myKEY."
Many employees raise questions about why their myKEY does not just automatically follow them, like their PRI does, when they move to another department or agency:
"Why isn't there an automated transfer process if myKEY is part of our standard work tools? Why is there a transfer in the first place? Aren't we all behind the GoC firewall?"
Several stories document the time and effort employees invest in trying to obtain a new myKEY once they are in their new position. Some employees log hours, days or weeks navigating the process:
"The actual myKEY transfer feels like IT limbo! The amount of time I spend explaining on the phone, sending emails is just mindboggling."
The requirement that an employee's email address match the name in the CWA system can further slow the process of getting a new myKEY until the discrepancy is resolved. In some instances, the situation is complicated even further when a department or agency is not using the Enterprise-wide system.
Employees who experience delays in obtaining a new myKEY indicate that they are also unable to access other key personal information until their new myKEY is in place:
"Since my myKEY was not transferred, I can't access the Pay and Benefits Web Applications; I can't transfer my PMA to my new workplace and input new objectives; I can't VPN in from home; I can't change my contact info in GEDS 2.0."
The scope of experiences shared by employees suggests that the challenges around myKey are not so much with the tool itself, as they are with the absence of knowledge around how an employee's myKEY should be managed and, when there is a problem, where to go for help:
"I was clueless as to who managed myKEY, what specifically it was (or wasn't) for and how to manage it when I transferred on secondment."
"Who do you go to: Shared Services or your IT person, or your HR person?"
In their many diverse stories, employees share a common understanding about how to fix issues around myKEY in the short term. Whether in the form of FAQs, user guides or how-to videos, employees and their departments and agencies require user-friendly information about myKEY and how to use it­ information that explains what it is, how to maintain it, what to do with it when you change jobs, and where to go for help. As one myKEY user explains:
"As a tool to access key personal information and emails, more support information should be readily available and Help Desks should know everything about it… the support information should be easily available on our intranet sites and the list of people who can help should be available."
Putting clear instructions in the hands of the end user would go a long way toward closing the gap between those who seem to navigate the system effortlessly and those who endlessly labour away. Over the long term, however, a more sustainable solution would see an employee's myKEY follow them from job to job, with procedures in place to update an employee's myKEY with their current position and department within an expected time frame.
Snapshot: Accessing systems
For many employees, the introduction of new systems is a major source of frustration. Public servants report that new systems are commonly introduced without consulting or product testing with end users prior to roll-out:
"The biggest issue with new technology is that the consultation and piloting phase is not done at a grassroots level…"
"…If a product is tested only at the level of the most secure and skilled user, then you are not listening to the needs of the largest group of users."
Implementation is often accompanied by inadequate training, and a lack of support at the back end:
"There was not enough training offered to the end users."
"We had no dedicated consultant to roll out for us. This would have been helpful."
Service user frustration is amplified when an existing system is replaced as a result of a change in service provider: having to learn and live with a brand new system, which may or may not be designed with the needs of the public service in mind.
"The cost of changing software is not accounted for when calculating the cost of the change in contract during a procurement process… the salaries and training costs… GoC employees can't be learning a new software system every time a contract expires."
Feedback notes the absence of mechanisms for post-implementation review:
"When new systems break down or are incompatible, you have to look for the root cause. Why is the system hard to use? … No one asked an end user what they needed from a system."
Many question the timing of the introduction of new systems at fiscal year-end:
"Why is it necessary that most new systems/tools are rolled out around March 31st (fiscal year-end), which is the busiest time of the year for many end users, and why could these not be implemented at another time (e.g., several months before or after fiscal year-end)."
Stories document the associated costs for employees – lost time and productivity, employee frustration, having to work with inadequate tools, and searching for workarounds:
"A drain on time – trying to find workarounds, trying to find answers from the service provider (not always with success), employees spend time seeking help internally from other employees when other avenues fail."
"A source of frustration – the frustration of having to work with poor tools, the frustration of knowing that this results in a waste of money collected from Canadians and takes away from the time that would be spent on other tasks."
Some establish their own troubleshooting processes for their employees:
"No one gave me the rules, so my team created its own. There was some training but it wasn't entirely useful. I ended up spearheading my own change management plan… We also had desktop ridealongs, which were so helpful. We created our own user documents, as the training was not customized enough for our agency."
In addition to the process for implementing new systems, the inability to access electronic tools like webcasts or webinars because of issues around firewalls, bandwidth, or even having a working system is a major irritant for public servants. Many cite their experiences with live streaming the BP2020 webcasts, including the one on internal red tape:
"Our group signed up and live streamed the speech so that everyone could watch but we got a stream that cut out every other minute. We heard maybe a third of the speech, which is ironic because I think BP2020 is about tech and innovation in the public service?!"
"Public servants seek approval to take time from regular work to participate in webcasts about Government of Canada innovation and red tape reduction. It is ironic to have such horrible bandwidth issues; we give up in frustration and go back to our day jobs. Is that not what we're trying to fix?"
"…It's unbelievable that I can't watch and listen… I just want to connect, learn, and do my job."
Feedback further pinpoints specific system irritants, from acquiring non-standard software to GCDocs downtime. Acquiring non-standard software is a lengthy and time-consuming process, from completing justification paperwork for software purchases, to waiting for program funds to make purchases, to the time spent waiting for the software to be installed:
"I am waiting for them to install SUDAAN for survey analyses; it has been over a year now since we bought it."
Some simply give up on the process:
"Some colleagues work without necessary software because they feel that the process is too laborious."
Others point to the Policy on Acceptable Network and Device Use as a barrier to doing their jobs. Some public servants report not being able to access sites that they require to do their work:
"All or nearly all sites, including sites referred to me by my fellow public servants, were blocked. I did the research over successive nights at home after hours, staying up late after putting the kids to bed."
Feedback further notes that these blocked sites include federally supported learning organizations:
"Discoverers of blocked learning materials intended for public servants spend time writing business cases to have them unblocked…"
For many, however, whose department or agency has implemented GCDocs, the impact of GCDocs downtime on their work is unparalleled:
"As we have moved to a paperless process and rely on GCDocs, downtime really impacts us as we can no longer access our working documents… The last downtime had us out for 3.5 hours at a financial cost of $1,000 for my team. Multiply that by those impacted across government and we are talking about significant losses in efficiency and productivity."
Within their stories, public servants share some key lessons around accessing systems. When putting new systems in place, public servants urge the federal government to engage service users in system design and testing prior to roll-out; provide mechanisms for gathering feedback from service users; and offer post-implementation training and support:
"Prior to rolling out the new systems, engage the union and employees for input; test pilot systems with various users who can provide critical feedback. Ensure there are mechanisms in place for users to provide feedback."
"When planning to unroll a new tool, it is important to have training in place."
"If you are going to implement a new system, you need to ramp up the service support levels, including the number of specialists at the Helpdesk, to deal with the flood of new user questions that will come in."
Public servants also suggest system-specific recommendations, such as investing in research about how to deal with the downtime and lost productivity noted in feedback on GCDocs:
"… invest in infrastructure or systems to decrease the amount of downtime, with the ultimate result of enhancing our efficiency. We should explore how large multinationals using the same systems worldwide resolve such issues and implement similar methods to get us back up and working faster."
Review policies and practices around acceptable network use:
"…identify organizations that are federally funded and support organizational learning and set the default as unblocked for those sites, or set up a policy that would make it easy for federally supported public service learning organizations to put themselves on a list."
Improve the process for accessing necessary software:
"…a single window for immediate downloading of pre-licensed software."
While these stories are a snapshot of feedback from service users – the everyday public servants, who depend on these tools to do their jobs – they ultimately provide an opportunity for the federal government to view internal service from the outside in, to engage public servants in a conversation about how to make these tools work for them.
Annex 3: A service strategy for internal services
The findings from the Internal Red Tape Reduction initiative highlight poor client service as a major irritant for many public servants in their day-to-day work lives. Public servants told us that they experienced the following when accessing internal services:
Client must initiate contact
Lack of support and guidance
Conflicting or unreliable advice
Local expertise ignored
Multiple contacts / a "not my job" mentality
The Internal Red Tape findings underscore the importance of focusing service excellence on internal services. Efforts at the federal level have focused primarily on the design and delivery of service that meets the needs of Canadians, through initiatives such as the Citizen-Centred Service Network (1997), Service Canada (1998), the Service Improvement Initiative (2000) and, most recently, a proposed Service Strategy that aims to improve the service experience of Canadians by creating a single online window for all government services, with new standards for service delivery. These initiatives have laid the groundwork for developing a culture of service within the Government of Canada and earned Canada a reputation as a world leader in public sector service delivery. The findings of the Internal Red Tape Reduction initiative provide an opportunity to build on this work by extending service excellence to those services which impact public servants performing their jobs on behalf of Canadians every day.
Why develop a Service Strategy for Internal Services?
Internal service is the foundation that supports the delivery of all public services. Given its importance, many organizations have started to place more emphasis on building higher levels of service satisfaction and organizational performance within internal services.
The Public Sector Service Value Chain (Heintzman and Marson, 2005), which has gained acceptance as a model for service delivery and management in the public sector, draws the link between the internal and external service environments. This model highlights the importance of an engaged workforce in delivering high-quality public services, noting that, in order for it to meet its service objectives, the public sector also needs to focus on the employees who deliver them.
A growing body of research on jurisdictions within the Canadian public sector has begun to validate the link between employee engagement and the delivery of public sector services. The results of employee engagement surveys echo many of the findings of the Internal Red Tape Reduction initiative – the importance of providing access to help, guidance and information when needed; clear communication; easily understood workplace processes and procedures; etc. – and, indeed, support the move by many of these jurisdictions to pay close attention to improving the internal service experience.
The Internal Red Tape findings provide concrete examples of where to focus improvements in the working environment of federal public servants. A Service Strategy for Internal Services would guide the adoption of service excellence in internal services, and help to anchor it in the day-to-day culture of the federal government. Moreover, bringing internal services into the service experience would further the Government of Canada's broader service agenda.
What are the key elements of a Service Strategy for Internal Services?
A Service Strategy for Internal Services would provide a blueprint for building a service culture around enterprise, department and agency back-office services. A service strategy would address the following:
Signalling a commitment to service excellence in internal services
A commitment to service excellence means orienting an organization's entire range of functions around meeting the needs of its clients, both external and internal. Service excellence also means that employees understand how their functions affect their fellow employees. External service delivery starts with internal service; the service that citizens receive depends on employees, departments and agencies working together to meet these needs. Colleagues are also internal clients, and the quality of service provided for external clients depends equally on the support provided internally.
Broadening the Government's commitment to service excellence to include internal services would communicate the value it places on internal services, and ensure that all employees understand how their work serves each other, as well as Canadians. The Government can signal its commitment to internal service excellence in the following ways:
A service policy that includes department and agency internal services
The Government of Canada's current Policy on Service refers to external and internal enterprise services. Extending the policy and related instruments, including the Guideline on Service Standards, to include department and agency corporate internal services would reflect more closely the realities of the internal service environment.
A vision of service excellence and principles that includes internal services
A vision of service excellence and principles set the foundation for the development of a service culture. A vision of service excellence sets out what the organization desires to be, while the principles guide its day-to-day efforts to meet client expectations of service.
Broadening its vision of service excellence and guiding principles to include internal services, and communicating these as core values and expectations of the Government, are fundamental to an internal service culture taking shape.
Leadership
It is well established in literature and in practice that leadership is key to any organizational transformation. Leadership sets the direction for the organization and sustains the momentum throughout the initiative. Leadership and support from senior executives is fundamental to the implementation of the service strategy.
As recent experience shows, organizations with a strong service culture have a champion in place – a Chief Customer Officer (CCO) – who is responsible for supporting the development of a culture that values the customer service experience. The service strategy would examine the feasibility of establishing a service champion within the federal government to support service excellence in internal services and bridge the external and internal service environments.
Redesigning service offerings, engaging clients and setting standards
Key to improving the internal service experience is having a clear understanding of who the clients are, what they expect and need from the department or agency, and how they access service. As the Internal Red Tape findings demonstrate, the service experience often looks a lot different from the client's perspective than from that of the organization.
Working with clients to understand their service needs and how the process for accessing service works for them is vital to redesigning service offerings and setting standards of service. The service strategy would explore options for developing a robust client engagement program where clients are an integral part of the design, development and review of internal service offerings and the processes that support them.
Design-thinking
Design-thinking approaches, putting the users at the centre of service design, are essential. Some of the tools applied in design-thinking, including the development of personas and scenarios, journey mapping and the like, are vital to a better understanding of the client's needs and challenges in accessing services.
Client feedback tools
Mechanisms for regular and ongoing client feedback about services, suggestions for improvement and satisfaction levels, such as focus groups, surveys, and comment cards, as well as a simple and accessible complaint resolution process, are essential for identifying areas that require improvement. The service strategy would examine the feasibility of adapting the Common Measurements Tool (CMT) to the internal service environment.
Client-centred service standards and client satisfaction targets for internal services
Service standards and client satisfaction targets are essential components in achieving service excellence; they are the means by which an organization judges its service performance. Service standards and client satisfaction targets work hand-in-glove. Where service standards are the key to managing client expectations of service based on the available resources, client satisfaction targets are the means for improving service performance and quality.
For service standards and client satisfaction targets to be effective, they need to become part of the corporate culture. The Government's Policy on Service requires departments and agencies to set service standards for external and enterprise internal services; however, there is currently no policy or directive in place for setting service standards in department and agency corporate internal services. Giving departments and agencies the mandate to set service standards for corporate internal services would signal to public servants the Government's commitment, through BP2020, to improving the working life of employees.
The Management Accountability Framework (MAF) sets out the Treasury Board's expectations for effective performance, and one of the 10 elements that make up the MAF is "citizen-focused service." The MAF has begun to integrate internal service standards into the process, a trend which is expected to continue in the years to come.
The service strategy would continue to build on this work and explore further opportunities for setting service standards and client satisfaction targets for internal services, including establishing interdepartmental working groups for both enterprise internal services and department and agency back-office services. Doing so would also provide the opportunity for departments to compare their performance with that of other departments and agencies and, as a result, learn from one another.
Established resources and best practices
Resources developed as part of the federal government's focus on improving external service delivery are tried and true, and are thus useful tools for the development and implementation of the service strategy for internal services; these include the Guideline on Service Standards, Service Quality Initiative Guides, and Toward Citizen-Centred Service Delivery: A How-to Guide for the Service Improvement Initiative.
Learning from experienced and knowledgeable jurisdictions, including Ontario Shared Services, the Government of British Columbia and the Region of Peel, would also enrich the development and implementation of the service strategy.
Investing in people
Excellence in service depends on responsive, accountable and professional staff members who exemplify a client-centred service culture. Embedding a service culture in an organization requires focusing on people – hiring service-oriented people, training, empowering, mentoring, supporting, praising and recognizing.
The service strategy would provide a coordinated approach to ensuring that employees are equipped with the knowledge, skills and tools they need to meet their service commitments.
Recruitment of service-oriented people
People with a service ethos are essential to building a successful service culture. The service strategy would explore ways to align the recruitment process to recognize service excellence as a core competency and Government priority.
Service excellence orientation and training
Effectively delivering on their service commitments means employees have the right skills and tools to do their jobs. The service strategy would explore options for developing a mandatory service excellence training and orientation program for public servants and new employees, as well as other tools and resources to orient employees to a service-based culture, such as an employee handbook or online training videos.
The strategy would look at securing expertise in the design, development and delivery of a customized service excellence training program, including from the Canada School of Public Service (CSPS) and the Institute for Citizen-Centred Service (ICCS), both of which offer service excellence training for public sector organizations. The CSPS currently offers the following courses in service excellence:
"Service Excellence for Internal Clients" for all functional specialists
"Leadership in Service Excellence" for all executives
The ICCS provides a comprehensive Certification and Learning program in citizen-centred service for public sector organizations, the first national program of its kind and geared to both the external and internal service environments.
Client service commitments
In organizations that have adopted service excellence practices, employees have a clear understanding of how service to the client affects the organization's overall performance, and are held accountable for achieving service goals. Service commitments are part of performance management agreements for employees and managers.
Exploring how to integrate accountability for service goals into existing performance management agreements and making competency in service excellence part of training and development plans would form part of the service strategy. Learning from organizations that have built service commitments into their performance management systems is an important part of this process.
Employee recognition
Honouring, encouraging and supporting individuals and teams who contribute to the success of the organization is essential to service excellence. Recognition shows employees that their individual and collective contributions make a difference and are valued.
The service strategy would examine options for establishing an employee appreciation and incentive program to recognize and encourage outstanding service. This would include broadening the Government's current program, as well as encouraging informal rewards, recognition and incentive programs at the branch and sector level. Working with partner organizations, including the Office of the Chief Human Resources Officer (OCHRO), is key.
Employee engagement and feedback
Commitment to service excellence is built through the involvement of staff. Employees often know what could be changed to improve the service environment. Seeking input and feedback from employees about service design and improvement and monitoring employee satisfaction on a regular basis are important parts of building a service culture. The service strategy would look at using existing tools like the Public Service Employee Survey (PSES) to gauge employee satisfaction levels, examine the feasibility of broadening the PSES to include questions on internal service excellence, and investigate other tools for seeking employee feedback.
Measuring and monitoring service performance
Two critical components of service excellence are consistently and regularly monitoring and evaluating service performance and ensuring accountability for results. A service strategy would provide for a comprehensive evaluation of service performance and satisfaction levels, via service standards, as well as client satisfaction and employee engagement results, and reporting on these results to clients, employees and the public.
An area that would benefit from further study is the feasibility of linking the PSES to the Citizens First national survey of Canadians' views on public sector service delivery. Taken together, these two survey instruments – employee engagement and citizen satisfaction with external service – would provide a more complete picture of how the public service as a whole is performing.
Benchmarking service performance
Learning from other organizations, jurisdictions and sectors is essential to service excellence. Benchmarking service performance against others offers an important means of assessing service performance, setting goals for the future, and identifying areas for improvement and change. Benchmarking would form part of the service strategy's focus on monitoring and measuring service performance.
Establishing a Service Excellence Community of Practice (CoP) for internal services
Establishing a Service Excellence Community of Practice would provide a focal point for information-sharing and communications around best practices and lessons learned. The service strategy would explore options for establishing a CoP with representation across departments and agencies to connect leaders and practitioners of internal services in support of the continued transformation of enterprise-wide systems, including IT, Travel, CWA, the PSPM portal and myKEY, as well as department and agency back-office services.
Communications and marketing
Transforming an organization involves an increased focus on communication. A communications and marketing plan would build awareness around the Government's commitment to service excellence in internal services. The service strategy would outline steps for developing a coordinated communications and marketing plan for employees, clients, departments and agencies and the broader public, including:
Sharing publicly the commitment to service excellence, vision and principles
Communicating service offerings
Sharing results of feedback and performance measurements
Recognizing and celebrating success